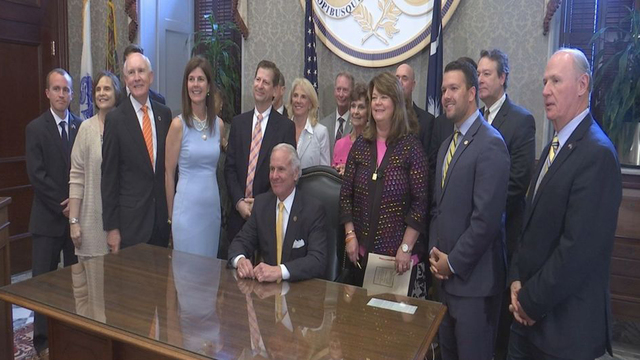 Bill creates accountability for organizations in South Carolina
COLUMBIA, S.C. (WSPA) — It's been almost five years since Tucker Hipps died while pledging a fraternity at Clemson University. Two years after his death, state lawmakers filed and passed a proviso requiring conduct violations by campus organizations be reported.
On Wednesday, Governor Henry McMaster was joined by the Hipps family for a bittersweet moment. The governor put his signature on the Tucker Hipps Transparency Act, a bill that creates transparency and accountability for organizations on campus. 
Cindy Hipps, Tucker's mother, has been an advocate for change since the death of her son. She said Thursday's signing brought excitement and tears.
"I just think about Tucker. He would be proud. He loved his state. He loved his school. It's just tragic that he lost his life because of what happened. And I hope no one else has to lose their life to hazing," Cindy Hipps said.
Under the law, universities and colleges will be required to report infractions like hazing, sexual assault and alcohol violations for all campus organizations.
Representative Gary Clary from Pickens has been working with the family to develop long-term legislation.
Clary explained the importance of this violation database, "It's readily available. It's updated by the colleges on a regular basis and it provides that level of information you want because when your child joins an organization you want them to be safe."
But for Cindy and Gary Hipps, the law is about more than creating and maintaining a database. It's about helping families make informed decisions and prevent another tragedy.
"The university experience should be the beginning not the end for them, so everyone needs to be able to make wise decisions," said Gary Hipps, Tucker's father.
The bill was originally passed in 2016; however, the proviso came with a three year sunset clause. The act would have expired in June.
The governor's signature now enacts the act into permanent law.
As part of this law those infractions and conduct violations have to be made readily available for the public, specifically parents and prospective students, and posted online.