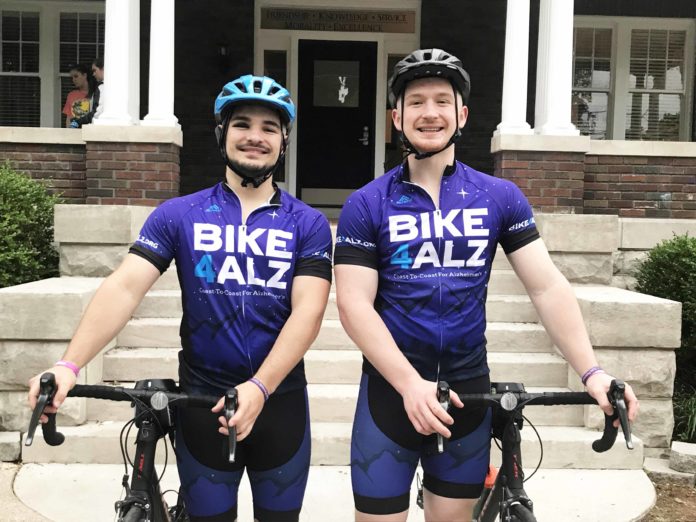 Tucker and Parker Phelps do a lot together. The Frankfort brothers, who were homeschooled, are both majoring in nursing at Western Kentucky University with aspirations of becoming nurse practitioners. They are also brothers in the same fraternity, Phi Gamma Delta, which is how they got involved in the adventure of a lifetime.
On Thursday, Tucker, 21, and Parker, 19, set off from San Francisco on a 3,600-mile cross country bicycling trip that they have been planning and fundraising for more than a year. Along with 12 of their fraternity brothers, they dipped their back wheels in the Pacific Ocean and are riding east to put their front wheels in the Atlantic in an effort to raise both money and awareness for Alzheimer's disease research.
"We have family members who have already passed from Alzheimer's and several who are currently battling Alzheimer's or dementia," their mother, Jennifer Phelps, told The State Journal, explaining why the cause hits particularly close to home for the young men.
Bike4Alz.org.is a nonprofit organization started by a WKU alumnus and fraternity member who lost his grandfather to the disease in 2010. Each summer, a group of about a dozen Phi Gamma Delta brothers crosses the country. The Phelps brothers will be part of the seventh team to take on the challenge.
For Tucker and Parker it was an easy decision, albeit one that required foresight and preparation.
"Last summer, they worked long hours to save money for their expenses for both the 2018-19 and 2019-20 school year," Jennifer Phelps said, adding Parker had a full-time job at Montaplast and a part-time gig at Chick-Fil-A and Tucker built decks for Hall Brothers Home Improvement and mowed grass. "They both wanted to be able to take this summer off from working to help raise money for this cause."
While neither of her sons has much riding experience, with the exception of few light rides they were able to squeeze in during the spring semester, they are athletic — both participated in basketball and tennis during high school.
The riders will notch anywhere from 50-120 miles per day, depending on the terrain. They have already mapped out their route, broken down the mileage into doable chunks and built rest days into their calendar. For instance, on Saturday, the group will cover 57 miles from Vallejo to Davis, California.
"Sometimes they visit memory care facilities in the cities along their route or have scheduled fundraising events on their rest days," Jennifer said.
On their trip east, Jennifer expects the group to travel through Frankfort on July 8 during a leg that begins in Louisville at 8:30 a.m. and ends in Lexington, but she is uncertain what route they will take or what time they may come through. Other Kentucky stops include Bowling Green and Elizabethtown, with more likely to be added.
Each night, the bikers will be hosted by churches and fraternity brothers at universities along their route, rely on the kindness of strangers or tent camp. Over the years, previous riders have built quite a few relationships with folks who are happy and willing to host the next year's group.
"They sometimes do not have a scheduled place to stay but are always able to find someone eager to help them and they leave with new friendships formed," Jennifer said.
The objective is to avoid staying in hotels so there will be more funds to donate at the end of the ride. In the past six years, Bike4Alz.org. has raised more than $250,000, and this summer's goal is a lofty $70,000.