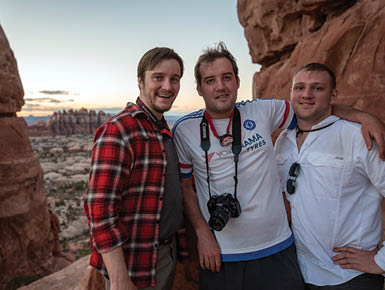 Cole Hensley, a Pi Kappa Alpha brother and student in the University of South Dakota's Sanford School of Medicine, began visiting wild country as a backpacker and a paddler to enjoy tranquility and find inspiration while still in high school in Brandon, South Dakota. He'd continued to seek adventure and discovery in secluded backcountry through college and medical school.
On a trip with two friends to Zion National Park in June 2018, Hensley was thrust by choice into a critical role providing emergency medical care to another hiker – a complete stranger – who'd been seriously injured in a rockslide.
Hensley's assistance proved invaluable, perhaps life-saving.
The intent of Cole Hensley and two friends on that particular June day was to scout the trail and begin a longer, overnight backpacking excursion the following morning. Hiking the slot canyons of Zion National Park would be challenging and exhilarating, and it was wise to better understand their route and the terrain they would encounter.
They had walked a decent distance into the park – about six or seven miles – and then traveled back out, carrying water and their day packs, and were sitting on a park-operated bus, waiting to be returned to their campsite for the evening. Each man was justifiably excited at the prospect of the next day's journey. Towering rock ramparts rose up hundreds of feet on either side of a rough trail that followed a creek bed that flowed water or pooled it. They'd waded a chest-deep section of the stream, with their gear and provisions held over their heads. Shafts of sunlight at crooked angles colorfully illuminated the sheer canyon walls and the wet and stony floor of a dramatic chasm. Inside that canyon there was an immense silence except for the sound of trickling water or the faint murmur of wind from high above. The moist aroma of this cavernous, shady place was heavy despite Zion's arid location.
As they sat on the bus an animated, panting hiker entered, asking the driver to radio for an ambulance. About a mile up the trail, he announced, a group of hikers had been caught in a rockslide, and it appeared there were serious injuries.
Months earlier, back at USD, Hensley had attended an all-day disaster training sponsored by the medical school. Hundreds of students in various health professions as well as medical students participated in the training. Lessons related to "stop the bleed" had been taught that day, including the usefulness of tourniquets. Before departing for Zion, Hensley had made it a point to acquire several high-quality tourniquets, and he'd added them to his first-aid kit.
And now he sprang into action, securing the bus driver's first-aid kit, pulling his own kit from his backpack, and sprinting down the trail.
"I had no idea what I would encounter," Hensley said later. "I mentally prepared myself for the worst. I was thinking there could be multiple casualties."
Visibility in slot canyons is limited, so Hensley could only imagine what lie ahead,and he kept running. The spectacular, dramatic landscape he'd enjoyed only minutes before was now a blur. When he arrived at the accident location he noticed a single victim – a male in his 30s – laying on the ground surrounded by eight or 10 people.
"I identified myself as a medical student, and I took charge," he said. "As I look back on the situation I now realize I was energized by adrenaline."
The others had worked to stem the bleeding, but their efforts weren't completely successful. The victim was conscious, seemed lucid, and he was speaking. His leg had been viciously shattered. "I'm not sure it was held to his body by anything other than skin and tendons," remembered Hensley, describing that grim sight. He later described the victim as having suffered "an incomplete amputation."
"I remained calm, and I worked to maintain a level head," Hensley explained. "I attached the tourniquets and stabilized his leg. We needed to carry him a long way to the parking lot where an ambulance could transport him to a nearby hospital. We took turns in the group carrying him because it was difficult, careful work."
Hensley doesn't know what became of the victim, and Zion officials cannot reveal his name or condition. "It seems likely he lost his leg," Hensley pondered, "but we saved his life.
"That was the first time I'd handled a trauma case," reported Hensley. "That I maintained my composure was one of the important lessons I learned that day. I also learned that the 'Stop the Bleed' training I'd been previously given was invaluable, and the repetition of the training allowed me to react naturally, without panic. The experience in Zion inspired me to become a certified instructor in 'Stop the Bleed' courses."
"The circumstances that led me to Zion and that accident are interesting," added Hensley. "Utah is where I first went backpacking while still in high school and that experience motivated me to pursue more hikes in wild places all over the country. Returning to Utah also, obviously, delivered my first experience managing a trauma situation, and that experience has motivated me to contemplate a career in emergency medicine. These are life-changing events, and although tragedy characterized one of them, I feel grateful to have experienced them."