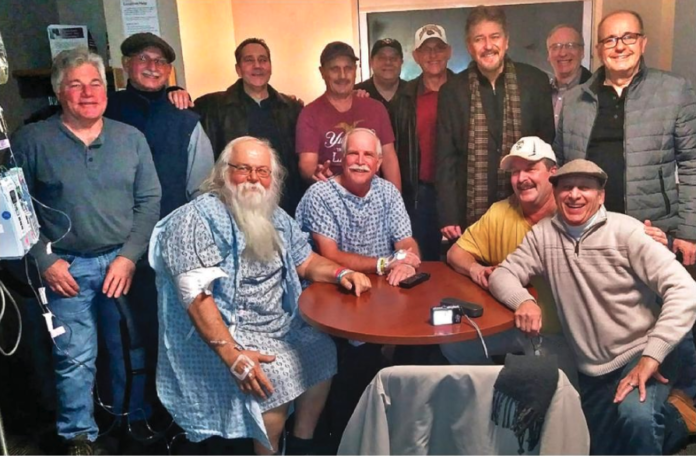 CLARION, Pa. – Relationships made in a fraternity can last a lifetime. Sometimes they can even help save a life.
In 1973, Michael Klimkos picked Ott Quarles to be his little brother while pledging Theta Chi Fraternity at Clarion State College. Forty-six years later he would save his life by donating his kidney to Quarles.
The two were featured on a KDKA-TV news report included with this story.  Explore thanks KDKA and writer Julie Grant.
"He saw on Facebook that I had put on there that I needed a kidney," Quarles said. "He's changed my life."
Losing touch after college, Klimkos contacted Quarles after he saw on Facebook that his "little brother" needed a kidney.
"I told him that the way he could help is to pass the word. I need a kidney. And he said 'No, how do I become a donor,'" Quarles said in the KDKA report.
Fraternity membership is for life.
When the two of them attended Clarion, the Theta Chi house was located on the corner of Wood Street and Seventh Avenue. The former fraternity house is now the site of the Fulmer House Books & Collectibles.
Klimkos explained some of the reasons he decided to donate.
"For one thing, he plays Santa Claus, and how do you say no to Santa Claus? And our fraternity motto was 'extend a helping hand, so—."
After the successful transplant last Tuesday at UPMC Montefiore, other Theta Chi brothers showed up Wednesday for a Theta Chi reunion.
"I haven't seen them guys either for 40-some years. When they came in, it was just like old days," Quarles said.
"We were close back then, but we were the fraternity brothers back then. Now I feel like I've actually gained a brother."
Ott will be able to return to his full-time job working for Cranberry Township, and next Christmas, he'll be healthier than ever when he puts on the red suit. Chances are he will also be wearing a Theta Chi shirt underneath.
Update from The Rattle of Theta Chi Summer 2019 edition:
Ott reports that he is doing well and has returned to work with no restrictions. He shared, "I can't express how thankful I am to Mike and Susie for their selflessness." Mike is also doing well and states that he is back to normal, putting in a few hours a week at Precision Fly and Tackle in Mount Holly Springs, Pennsylvania. He is enjoying retirement and looks forward to getting out for some fly fishing.