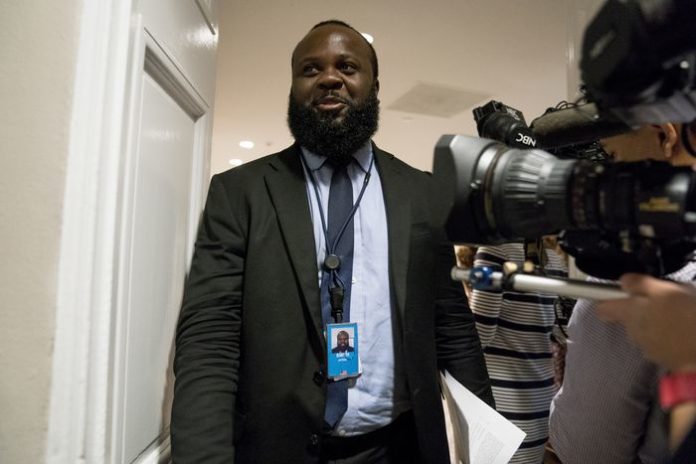 WASHINGTON, D C. – Ja'Ron Smith says politicians never showed up in Cleveland's Lee Harvard neighborhood when he was growing up there, unless it was an election year. But Smith insists his current boss – President Donald Trump – is different.
"In my role, I get to see a side of President Trump that isn't always covered in the media," says Smith. "I see a person who loves his country and who loves our people. He's funny, he has the biggest heart and he's old school."
As Trump's Director of Urban Affairs and Revitalization, the 37-year-old Smith is one of the White House's highest ranking African-American staffers. In that capacity, Smith plays a key role in developing Trump policies aimed at helping urban African-Americans, including legislation to promote opportunity zones, reform the criminal justice system, and provide aid to the nation's historically black colleges and universities.
Growing up in Cleveland, Smith decided to go to Howard University in Washington, D.C., because he wanted to learn more about African American history. He grew intrigued by politics after hearing Vice President Al Gore speak at the school during the 2000 presidential election.
After majoring in finance and economics, getting a summer job at Key Bank and pledging the Alpha Phi Alpha fraternity, Smith says he needed another summer job, so his former football coach introduced him to Mark Isakowitz, a longtime Ohio Republican operative. Isakowitz
helped Smith network on Capitol Hill, and land an internship with former Republican Rep. J.C. Watts of Oklahoma, a former Oklahoma Sooners and Canadian Football League quarterback who chaired the House Republican Conference. After that, Smith landed jobs with South Carolina Sen. Tim Scott as well as another former House Republican Conference chair – current Vice President Mike Pence.
Smith says much of his current job as Director of Urban Affairs and Revitalization focuses on policies that facilitate revitalization on a local level.
"The president is focused on creating a ground-up approach towards revitalization," says Smith. "We created infrastructure that can help empower these local residents with some tools, federal tools, that exist on top of educating people about how they can leverage opportunities to bring in private capital to these localities."