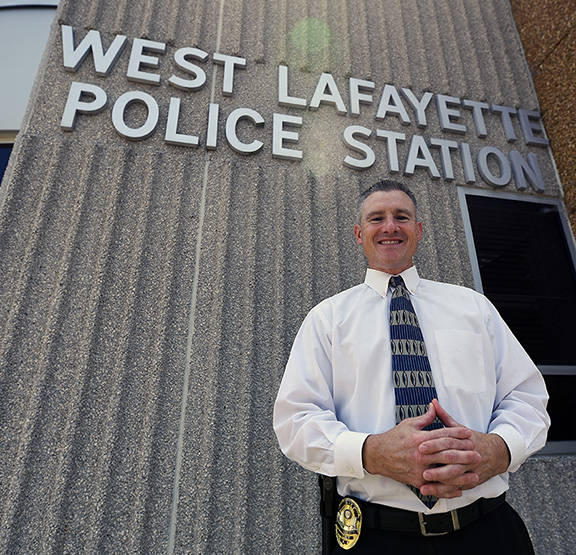 Pi Kappa Phi alumnus Troy Harris, some 25 years removed from his days as an undergraduate at Purdue University, recently celebrated his first six months as the West Lafayette, Indiana, police chief.
Harris moved steadily up the ranks in the force. He was a patrol officer, a detective, a supervisor of detectives and deputy chief prior to being appointed chief in February 2019.
"I've never been that kind of guy who worked just to get promoted," he said. "That was never important to me. The important thing was trying to do the best that I can at any job that you were doing at the time.
"I never had any aspirations of being a chief, honestly. There's not one time in my career that I've said, 'I want to be a chief someday.' I just don't operate like that. I just focused on the task at hand."
As chief, he manages nearly 50 sworn officers and works for Mayor John Dennis, who himself was a police officer in Lafayette for nearly 25 years prior to taking over the city in 2008.
With his new chief, Dennis saw not only experience, but a characteristic not always seen in policing.
"First word would be compassion," Dennis said. "In order to be an effective leader you need to possess the institutional knowledge to do the job. But in Troy's case not only is he a master at doing the job, he has the ability to empathize with the people he leads. He's kind, he's smart, he's experienced, and he cares."
Prior to becoming the top policing administrator in his college town, Harris worked in all three areas of the police department – patrol, investigations and special services.
"I am the kind of guy who likes to have my hand in it to be part of it," Harris said. "We've all worked for that boss who you think 'He doesn't even know what I do' or 'He doesn't know how to do this.' I don't want to ever be perceived as 'that guy.' One thing that I take a lot of pride in is having been a supervisor in every division of our agency prior to getting here, which I think gives me a great understanding of how to manage an agency."
As a chief, he can't do it all, and being chief pulls him in lots of directions other than policing.
"The biggest difference is being pulled in so many different directions," Harris said. "The biggest challenge for me is to be able to take a step back and just let the staff do their thing with the direction that they are given. I still like to be involved in too many things and it really slows me down – that's the biggest obstacle that I face."
Harris, a Huntington, Indiana, native and the product of a single mom, said his undergraduate fraternity experience helped him during his career.
"Being able to live with that many different people that come from so many different backgrounds, so many different personalities, it helps you not just in policing, but life in general," he said. "To be able to get along with people from all walks of life, to be tolerant, to have patience, to form relationships, to follow rules and then to make that transition to police work, I think it's important because you lived a life and you have some experiences, not just as a college student, but as a fraternity member and then you are out there policing those people. So, it really gives you some insight."
Dennis, for his part, likes what he sees in Harris' first six months in charge.
"He is reviewing and strengthening our current programs internally and externally," Dennis said. "He is also strategically looking at the future to continue the good work of supporting the citizens of West Lafayette."