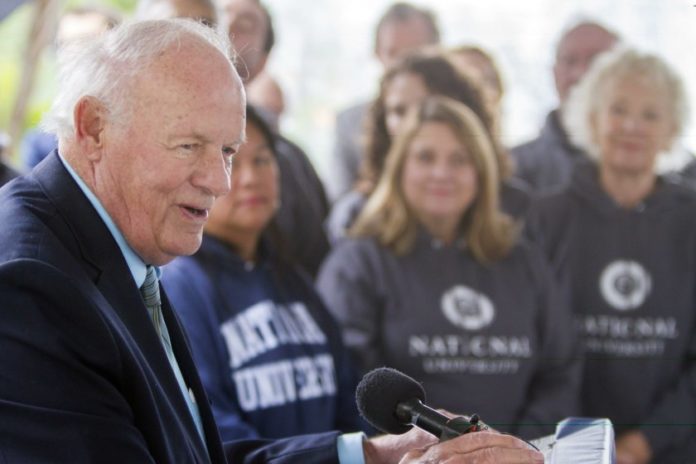 Credit card billionaire T. Denny Sanford has long said he wants to die broke, an ambition that has made him one of the most generous philanthropists in the world.
Today the Chi Psi alumnus announced his latest gift – a $350 million pledge to the National University in California. The donation will be paid out over a "short period of time" according to the university leadership; it will help to implement and advance initiatives designed to transform the higher education sector for post-secondary students.
This is not Sanford's first donation to National University. Before today's announcement, Sanford had already gifted $150 million to the university whose school of education, one of the largest in the country, is named after Sanford.
To celebrate its wealthy benefactor, the university will rename itself Sanford National University in July 2020.
"I'm absolutely honored and thrilled about this. And more importantly, it will help to expand some of the work that National University is already done for me," Sanford tells Forbes.
Programs that National University previously launched together with Sanford include Sanford Harmony, a social-emotional learning program for Pre-K through 6th grade students to foster communication and compassion; and Sanford Inspire, which provides free professional development for teachers.
Founded in 1971, the private, nonprofit National University primarily caters to adult learners, providing specialized education to suit students who are raising families, working, or are veterans.
According to the university, there are 36 million Americans with some sort of college education but no degree, while two thirds of the jobs created this decade will require some form of post-secondary education.
"Denny has stressed that he agreed with us that educating the masses is important. The single moms, the folks where life got in the way, the folks that work two to three jobs to make ends meet – these type of folks need to get served with education," says Dr. Michael Cunningham, chancellor of National University Systems, a network of four nonprofit universities that run Sanford's programs.
According to Dr. Cunningham, the Sanford donation will allow the National University to dramatically decrease tuition, increase student success and deepen collaboration with businesses. The University expects that the number of students will double within the next five years. Today, National University has 28,000 full- and part-time students.
T. Denny Sanford himself was set on a dramatically different path thanks to education. The Minnesota native started working in his father's garment shop at age 8, and might have had a completely different life if it hadn't been for a run-in with the law. At 18 he was sentenced to 90 days in jail for fighting, but was offered a lighter sentence by the judge if he agreed to go to college. He attended the University of Minnesota and joined Chi Psi.
He started manufacturing and construction materials firm Contech in 1959, took it public in 1972 and netted $20 million when he sold out a decade later to Rexnord.
In 1986 he bought a small Sioux Falls, South Dakota-based bank and has expanded its credit card business into a national giant by offering high-risk borrowers cards with steep interest rates and low credit limits. Despite only having 17 branches, his First Premier Bank is one of the largest issuers of Mastercard credit cards in the country.
Forbes estimates his 92% stake in the bank to be worth $2.3 billion. With a net worth of $2.4 billion, Sanford ranked 355th on the 2019 FORBES 400 list of richest Americans.
Including the pledged $350 million donation, Sanford will have given away close to $2 billion, most of it toward health care and education.