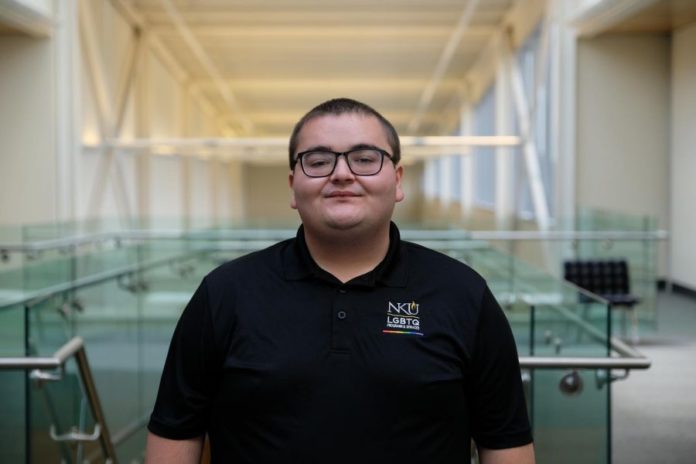 For Jarett Lopez, student body president at Northern Kentucky University, his interests in politics and civic engagement have always derived from his identity as someone who's gay. 
"Once you start looking into queer theory, you see that oppression is interlocking," the Sigma Phi Epsilon brother said. "A populace who isn't civically engaged is more likely to be oppressed, and you're not going to see the changes you want to see. All the rights that the LGBTQ+ community have won have been fought for, politically."
"We wouldn't have made the progress that we've made if it hadn't been for political advocacy."
Lopez was first exposed to the inequalities that LGBTQ+ individuals face while doing a research project in middle school, where he noticed that only four states supported same-sex marriage at that time. Later on, in high school, he did civic engagement work with his school's gay-straight alliance. He graduated with the intent to continue his social work in the realm of higher education.
"A lot of the work I do is stemming from those experiences as a young gay person realizing that the rights that I have are different than someone who is cisgender or straight," Lopez said.
Enacting change
During his time as a member of Student Government Association, Lopez has enacted several changes for students on campus, including writing a resolution to create an Academic Excellence Committee for students and staff to create programs and creating a successful honorary resolution to commemorate the fifth anniversary of the Office of LGBTQ Programs and Services. At the moment, he is attempting to create a new Gender and Sexuality minor on campus, with a focus on studying the LGBTQ+ community and the intersectionality within it.
"You can't be a proper LGBTQ+ activist, in my opinion, without understanding that the experience is different for people of color who are also queer, or without looking at socioeconomic status or nationality or anything like that," Lopez said.
In addition to being president of SGA, Lopez is a senior political science major, a lead ambassador for LGBTQ Programs and Services on campus, vice president of communications for Sigma Phi Epsilon, a member of Alpha Lambda Delta and a member of the Political Science Honor Society. The first organization he joined on campus was Model United Nations, which he is still trying to actively participate in when he's "not doing a million other things," he said.
The number of organizations Lopez is involved in has made him a well-known figure on campus. But Lopez doesn't feel that anything has changed, despite his now-prominent status on campus; he texted former SGA President Hannah Edelen earlier in the semester and asked her "when does it feel real?"
"It's funny. I didn't run to be an icon. I don't really see myself as one. Here in the office, we usually have the executive board headshots on the wall. But we're not doing that this year because I didn't run to have my face on a wall. I wouldn't like that," Lopez said.
Instead, the place where the headshots normally hang will be covered in student art from an SGA-sponsored art contest that will take place after midterms.
Going Greek
When he made the decision to join a Greek organization on campus, Lopez chose Sigma Phi Epsilon because he felt they were more genuine than others and because SigEp is one of the most diverse fraternities. He never worried about being openly gay in SigEp, or in any of NKU's Greek organizations, as there are several prominent queer figures in Greek leadership positions.
Lopez spoke at a summit for GLSEN (Gay, Lesbian & Straight Education Network) last semester, where he presented his experiences of being involved in NKU's campus organizations while being openly gay.
"One of the things I talked about was that you don't have to be in LGBTQ+-oriented organizations to get leadership positions at NKU, and that our Greek life is actually very LGBTQ+. And the students were surprised," Lopez said. "I'm glad that I can spread to potential students that if you're someone who is LGBTQ, you don't just have to be in LGBTQ organizations. There's other stuff you can do."
When he's not spending every waking second on campus, Lopez said he enjoys doing what any average student does: binge-watching his favorite television shows.
His latest watch is the last season of American Horror Story. Lopez is also a fan of immersive role-playing games. Recently, he has been playing Fallout: New Vegas, and his favorite series of all time is the fantasy saga Dragon Age.
"I'm someone who re-watches shows because it feels like an undertaking to start a new show. My go-to safety blanket show is Gilmore Girls. I've seen it probably four times. I remember watching it as a kid on ABC Family, so that's a comfort show for me," Lopez said.
While Lopez enjoys watching political movies and TV shows—his favorite being the West Wing, which he stayed up until 7 a.m. watching his freshman year—he said that they contribute to an idea that student government is just a pep club.
"People either think we're powerless, or that we can snap our fingers and change things, but it's somewhere in the middle," Lopez said. "I think it's really funny because there's people who are like, 'You need to fix this right away,' and then it's like 'they don't do anything, they're a governmental LARP'ing thing.'"
'Keep going'
Lopez said the most important thing for students to do on campus is to get involved and to be politically engaged.
"Really, get involved. Because it matters. People think 'Oh, I vote, so I'm civically engaged.' No, it's going to city council meetings. It's writing legislators. It's watching the news," Lopez said. "[If] you don't know what's going on in your community, you can't really call yourself civically engaged."
For all LGBTQ+ students on campus, Lopez had two words to say: "Keep going."
"I think that's the main thing. It can be really exhausting sometimes, existing in the minority of gender and sexuality, or both for some people," Lopez said. "It's important to continue to not let yourself get bogged down with society's expectations or limitations of you. Just keep going."