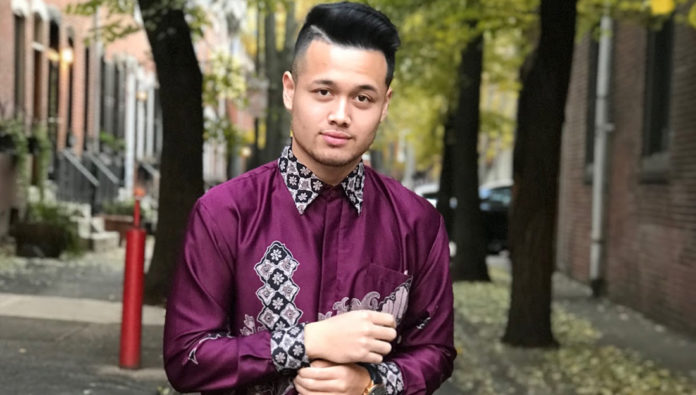 In an effort to highlight the young leaders who are leading undergraduate chapters across the nation, we at Watch The Yard reached out to the brothers of Kappa Alpha Psi Fraternity Inc.'s Omicron Kappa Chapter at the Lehigh University and did an interview with Julius Wibisono the Polemarch/president of the chapter.
The position of president of an undergraduate chapter of a fraternity is a highly respected role and there is a special pride that one takes. 21-year-old Wibisono has used the position to gain new leadership experience, improve the lives of other students on campus and help the community around him.
We interviewed the Finance & Management major and talked about his position, goals, future and what it means to hold a leadership on campus in the digital age.
Read the full interview below.
What does it mean to be a chapter president to you?
Being the Polemarch of my chapter means strengthening a space where others after me could feel like they are included or wanted in the organization. Being the first Asian to take this position is great for representation because it opens up this dialogue round identity. Also, it forces the stereotypes about historically black organizations to be challenged. This allows me to advocate for non-black voices in and making sure that we are representative of all identities.
What made you decide to attend the Lehigh University for undergrad?
I decided to attend Lehigh University primarily because of my limited options due to my immigration status. During my sophomore year of high school, I was granted to be a Deferred Action for Childhood Arrivals (D.A.C.A.) recipient. Being a D.A.C.A. recipient means that I could only go to certain schools where they are financially-friendly to students like me. During the time of application, Lehigh University was one of the only schools in the state of Pennsylvania that offered these privileges. With that, I immediately applied through their early-decision programs and got in sometime between end of March through beginning of April. In addition to the financial part, Lehigh was closer to home. Being able to see my family once a while is nice and having that geographical location between my parents and I is definitely a plus.
What specific initiatives is your chapter heading up this year and how do you think they will improve the campus/surrounding community?
In addition to our regular scheduling for the academic year that includes our participation in the bi-annual Yard Show, the Krimson & Kream Ball, Kappa Konversations, and more, this year, our chapter have put its focus on executing more educational events. The first initiative to meet that goal was to host the inaugural Immigration Awareness Week at Lehigh University, which happened in the middle of September of 2019. With a series of educational events, we hoped to facilitate dialogue surrounding immigration in a place where immigrants are a minority of the population and their voice is typically seen as subordinate as well as encourage more empathic and informed actions from the Lehigh community towards the immigrant population.
What made you want to pledge Kappa Alpha Psi?
I joined Kappa Alpha Psi Fraternity, Incorporated because I was seeking brotherhood and I wanted a circle that can both academically and socially guide me throughout my academic career at Lehigh. Growing up, I was an only child and there were times when the people I sought help from were only my parents. So I wanted to know what having those relationships are like. Throughout my freshman year, it began to show when Scott Grant, at the time Graduate Assistant of the Office of Multicultural Affairs and a Spring 2016 initiate of Omicron Kappa, was helping me navigate Lehigh. Scott knew I needed the space of support. Since then, Omicron Kappa and the fraternity as a whole have opened nothing but doors for me and I'm genuinely happy to have the family I do now.
What is it about your specific chapter that makes it so unique?
Even though there are some chapters that consist of multiple campuses, one of the things that make Omicron Kappa unique is having 3 active yards. As the Polemarch, there is the added difficulty of maintaining really good communication amongst all 3 yards and making sure that the chapter does not feel divided. When it comes to events, working around the different systems each institution has set is difficult, especially when it comes to funding. However, with the various challenges and working around the systems, it has diversified our perceptions of the world holistically. It's a reminder that even though the world of 1 yard is across the bridge, the rules and standards of the other yard will always be different and learning to adapt is a skill the brothers learn progressively.
We now live in a digital world, what do you think undergraduate chapters across all orgs need to do to represent themselves online in 2019?
What I would encourage undergraduate members to do digitally is to document their passions and interpret how you have made an impact for yourself and or for the community. People, whether artists, leaders, engineers, or photographers, have this amazing platform that they should take advantage of to showcase their works. We have the added advantage of a bigger audience because we can reach out to more people digitally. Broadcasting your success as an individual and as a chapter is an access everyone should take a part of. For example, in our Instagram page, we highlight both undergraduate's and alumni accomplishments so that this bridge between the boys on the yard and alumni are always crossed.
What does leadership mean to you?
Leadership is not the sole authority in a group. Leadership is one who actively listens for suggestions. Ideas strengthens a leader and that is why I try to emphasize the terms "teamwork" and "consistency." Being able to effectively delegate is also important because as a leader, I want to teach everyone how to fish and how to hold their own so that they can contribute. Leadership means having that respect from your group so that the transparency is there and out of all the reasons, other than being an active listener and teamwork, a leader should always know what is going on and what will happen.
What does brotherhood mean to you?
Brotherhood means accepting a person regardless of their identity. Brotherhood means supporting one another through thick and thin. Brotherhood means, despite of different backgrounds and beliefs, offering that welcoming atmosphere to everyone around us. If my chapter had taught me anything about brotherhood the past two years and a half, that would be my definition. In my chapter, you could see how these behaviors are shown through bonding and through phone calls. Before the start of my fall semester this year, some of the brothers on the yard had attended a fellowship in New York City, where some of the alumni were present. I had met a brother there who I saw once prior to this fellowship, and despite our lack of relationship, he immediately said, "If you need anything, give me a call. I don't know you that much on a personal level, but I do know that you're my brother. And I mean that." What I love about my chapter is that the feeling of family is always present.