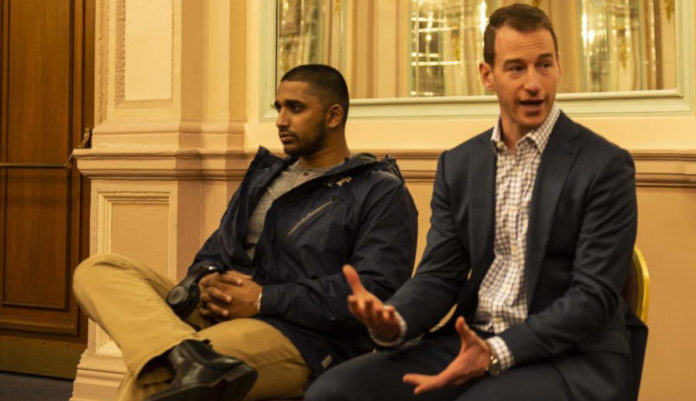 After shots were fired at the Tree of Life synagogue last October, Wasi Mohamed said the Pittsburgh Muslim community was prepared to support their Jewish neighbors, as the two groups had already been friendly with each other long before that.
"On Oct. 27, we did not need to look for the synagogue," Mohamed said. "We just showed up because we already knew where it was."
Mohamed, a Muslim comunity leader and the past executive director of the Islamic Center of Pittsburgh, addressed a small gathering of Pitt students Wednesday evening in the William Pitt Union's ballroom as part of a "Speaking Out Against Hate: How to Combat Hateful Speech and Acts" lecture organized by Zeta Beta Tau Fraternity. He spoke alongside his friend Andrew Exler, a Tree of Life congregant, Jewish community leader and leader of the "#Menorahgate" fundraising campaign, fielding questions from students about social action, hateful trends and building relationships.
The topic was something organizers Kyle Coopersmith, a junior politics and philosophy major, and his Zeta Beta Tau brother Christopher Minjock, a senior economics and communications major, felt was especially important, given the upcoming anniversary of the Tree of Life massacre, which resulted in the deaths of 11 Jewish worshippers at a Squirrel Hill synagogue. It is the deadliest attack ever on the Jewish community in the United States, according to the Anti-Defamation League.
"We knew we wanted to have Exler speak, because he's a Jewish Pittsburgh native and because he was able to pull together a successful grassroots movement," Coopersmith said.
They reached out to Mohamed after hearing his "powerful" speech at the vigil for the shooting victims, Minjock added.
Jonathan Perlman, a senior mechanical engineering major who attended the lecture, said he appreciated the solidarity between Exler and Mohamed.
"I think it was important to hear from two sides that are normally viewed as opposites fight the same issue," Perlman, a Jew, said. "Especially when anti-Semitism and Islamophobia are on the rise."