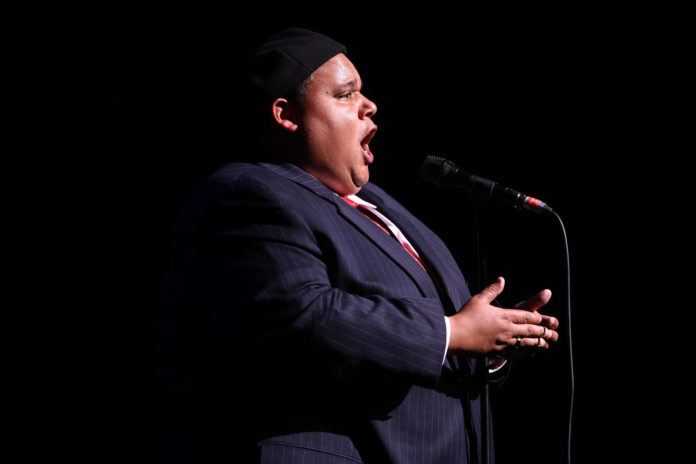 CAPE GIRARDEAU, Mo. (KFVS) – The Southeast Missouri University Foundation established the Jason J. LeGrand and Neal E. Boyd Endowment.
LeGrand created the award to honor singer and "America's Got Talent" winner Boyd, celebrate their friendship and to support character and leadership development for students who are members of Lambda Chi Alpha, their fraternity.
Boyd graduated in 2001. He was a well-known performer and recording artist.
LeGrand is a 1997 graduate. He built a career in university development and alumni relations.
He is a senior director of Principal Gifts & Strategic Initiatives at the University of California, Berkeley.
LeGrand met Boyd at Southeast in 1994 when Boyd became his "Little Brother" in Lambda Chi Alpha.
"Having Jason as my 'Big Brother' basically made us family in my eyes," Boyd said in a 2010 interview.
They both had similar experiences at the college. They both was elected officers in their fraternity, and both were recognized as Alumnus of the Year — LeGrand in 2000 and Boyd in 2003.
Boyd joined the fraternity's Hall of Fame in 2009, followed by LeGrand in 2012.
LeGrand and Boyd served the University as Presidential Ambassadors, on the Interfraternity Council, and both were involved in Student Government.
LeGrand moved to Jefferson City, Missouri for a semester, to intern in the Missouri House of Representatives in 1996. Boyd did the same in 1998.
They both were Man of the Year candidates, LeGrand in 1996, then Boyd in 1998.
Boyd earned the Distinguished Service Award in 2008. LeGrand received the Young Alumni Merit Award in 2010.
After college, they celebrated the big moments in Boyd's career such as Boyd's New York City concert debut at Carnegie Hall, for special performances in Washington, D.C. and Jefferson City. He was in 10 "America's Got Talent" episodes, at Christmas at Rockefeller Center, and concerts in Las Vegas.
Boyd, the son of Esther Boyd, graduated from Sikeston High School in 1994.
He earned degrees from Southeast and the University of Missouri. He continued his studies at the New England Conservatory of Music.
His career included teaching, public speaking, business and a music career.
His fame in Missouri and the Midwest earned him a spot on "America's Got Talent." He won the competition in 2008.
He passed away in 2018, Boyd was memorialized at a service in Academic Hall, where LeGrand made remarks.
LeGrand, the son of Evelyn Harbison LeGrand and Larry LeGrand, graduated from Cape Central High School in 1992.
He earned a degree in Mass Communication, then went on to serve on the Lambda Chi international fraternity headquarters staff.
He credits his experiences at Southeast as the inspiration for his career in university development, particularly working in Admissions and the Office of the President.
He started his career in college fundraising in 1999 at Cornell University.
He worked at the University of Denver, University of Nevada Las Vegas, and University of Maryland College Park, before joining the University of California's School of Veterinary Medicine in 2016.
He is currently employed at UC Berkeley. There he focuses on transformational gifts of $10 million-$100 million.
He is a member of the Southeast Missouri University Foundation President's Council and Horizon Club.
This is the second endowment at Southeast bearing Boyd's name.
The Neal E. Boyd Endowed Scholarship in the Performing Arts was established before Boyd passed away to support students majoring in music, theater, dance or performing arts education.
In the 2010 interview, Boyd said, "Jason and I have a personal mission to see Southeast Missouri State University grow into an even greater institution."
An inaugural award will be announced during the chapter's 30th anniversary gala on Oct. 26, 2019, the evening of Southeast's Homecoming.
Lambda Chi Alpha, one of the largest men's general fraternities, openned its doors at Southeast 30 years ago in 1989.
The local chapter has initiated 629 members. It has received its third international award for sustained excellence, the Grand High Alpha Award, earlier this year.
Lambda Chi Alpha was the first fraternity to stop pledging and continues to fight against hazing, alcohol abuse, sexual assault and other challenges facing college students.