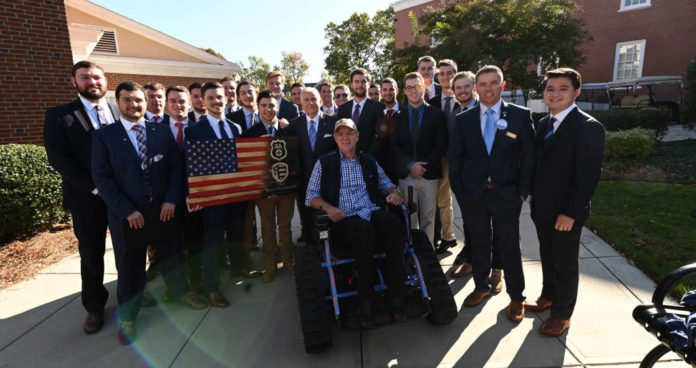 HIGH POINT, N.C., Nov. 8, 2019 – The brothers of Kappa Alpha Order at High Point University, in partnership with The Independence Fund, a national nonprofit assisting wounded veterans, teamed up to change the life of a U.S. veteran.
In the last five years, HPU's Kappa Alpha Order has raised over $50,000, which funded the purchase of a track chair for a wounded veteran in 2016 and 2017. Having raised $16,000 this year, the group purchased and presented a track chair to U.S. army veteran Steve Slate.
"Being able to see Steve here in the chair with his family and know that he got a renewed chance on life is amazing," said Holden Quinn, junior at HPU and member of Kappa Alpha Order. "We must do all that we can to support those who have sacrificed so much for our freedom."
Specialist Steve Slate joined the U.S. Army in 1984 and was a member of the Seventh Army, 94h MP Battalion, 285th MP Company in Fort Jackson, South Carolina. While serving, he was diagnosed with a form of ALS, called PLS, and medically retired in 1987. He is a native of and currently resides in High Point, North Carolina, with his wife Bettina. This special all-terrain, tracked wheelchair allows wounded veterans, like Slate, to regain mobility and independence.