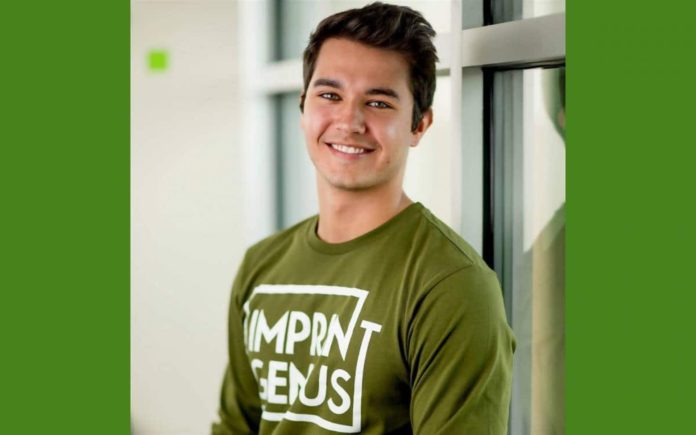 Meet Jack Abbruzzese, a current combined Master of Science in Management student graduating in 2020 and brother of Theta Chi Fraternity. His undergraduate major is Sustainability and the Built Environment.  Jack works as the Director of Sustainability for Imprint Genius, a fast growing collegiate startup.  Imprint Genius is a full-scale, innovative student run promotional marketing company.
Q: How did you decide to go into the field of sustainability?
Abbruzzese: "I have always been an environmentalist. In 8th grade, I wrote a letter to my principal advocating for recycling bins in the classrooms during lunch. But I'd never considered it as a potential career path. However, while exploring my options as a freshman, I came across the Sustainability and the Built Environment program and saw an opportunity to turn a purposeful interest of mine into a career. As I progressed through the curriculum, I realized sustainability and business are intertwined in many different ways. So, I decided to pursue a Master of Science in Management in order to further study that dynamic relationship."
Q: What are the other things you do on campus?
Abbruzzese: "Outside the classroom, I helped recruit more bright, young minds to the College of Design, Construction and Planning as Vice President of the DCP Ambassadors in 2018. I am also an active member of my fraternity, Theta Chi. I served as Vice President in 2018 and organized several service projects and philanthropic events on campus and around Gainesville."
Q: How would you describe your work at Imprint genius? What exactly do you do?
Abbruzzese: "Imprint Genius is a promotional marketing startup based here in Gainesville. We graduated from the Gator Hatchery accelerator program last year, and we've been growing rapidly ever since. We specialize in finding the most unique, high-tech, high-quality promotional products and apparel for our clients.
I had been with Imprint Genius since 2017 as a graphic designer. About six months ago, I transitioned to Director of Sustainability. In this position, I curated a catalog of the best eco-friendly (organic, recycled, recyclable, biodegradable, reusable, etc.) promotional products in the industry to offer to our clients. Currently, we're developing an industry-first carbon offsetting program in order to mitigate the emissions generated via the manufacturing and transport of our products. And next month, we'll be joining 1% For the Planet and donating 1% of our annual sales to environmental causes. Moving forward, I'll be working with our Sustainability Intern, Rowan Kelley, to further analyze our supply chain, implement internal sustainability initiatives, and become a certified B-Corporation."
Q: Tell us about a recent challenge you faced while working. How did you overcome this challenge?
Abbruzzese: "A common problem that sustainability professionals face is convincing people to shift their views of sustainability. If utilized correctly, environmentalism and sustainability can be a forceful tool for your organization. Successful implementation of sustainable practices saves time, money, and resources and can positively impact your brand association. I recently worked with a client who was interested in our Promo Done Greener catalog of eco-friendly products, but ultimately chose our most inexpensive options. To combat this behavior moving forward, we've honed our sustainability pitch to more coherently present the benefits of going green to clients and to other distributors."
Q: What are your plans for the future? How will you combine passion for sustainability with the business skills you have learned in the Master of Science in Management program?
Abbruzzese: "Initially, when I decided to pursue a graduate business degree to supplement my sustainability studies, my goal was to find my way into sustainability consulting. Businesses are largely responsible for much of the environmental degradation and pollution we see today, and so they also have the largest opportunity for improvement. With Imprint Genius, I've had the opportunity to jump into sustainability consulting as a full-time student. We've been growing rapidly, and we see massive potential for the sustainability side of the company and industry. So, for now, my focus is on disrupting the promotional marketing industry via creative, innovative, sustainable solutions."