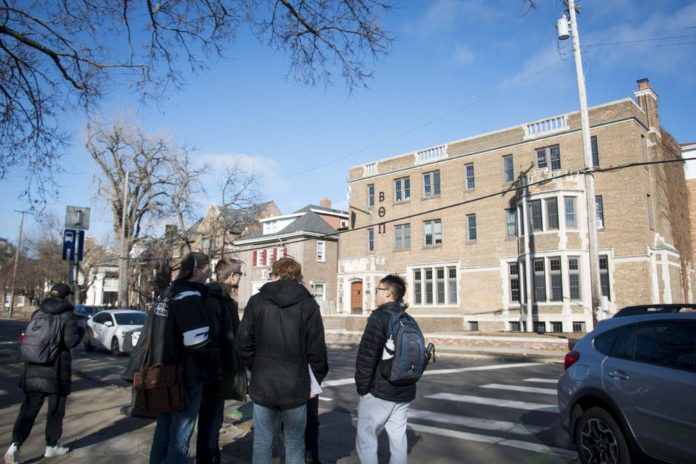 In an effort to incentivize students to join Greek life, the University of Minnesota's Interfraternity Council created a new scholarship using funds originally intended for an end-of-the-year event.
The IFC, the governing body that oversees many fraternities on campus, created the $7,500 scholarship pool for new members, presidents of chapters, as well as current members who have have done outreach work in various communities.
Seven fellows within the IFC community will receive about $1,000. The funds for the scholarship are contributions from various fraternities' leftover funds from their annual budgets, which are usually given back to members. However, this year they are using the funds to incentivize academics, according to Gerry Weber, the IFC president.
The council originally planned to use the $7,500 for a reception in early November to thank individuals from each sorority and fraternity for their leadership and contribution to the community. But, in a meeting to discuss the use of the leftover funds, Weber said they decided on a scholarship.
"We started realizing that financially within our budget we did not feel, I guess, ethical or appropriate to spend such a large amount on a reception that would honor between fraternities and sororities about 200 people out of 3,600," Weber said. "It just didn't feel like an appropriate use of funds."
IFC is currently working with the Office of Fraternity & Sorority life to determine what qualities it is looking for in the scholarship recipients.
"If we're trying to change the narrative around fraternities, we should start offering more incentives towards academics and towards being outstanding students at the University [and being] an outstanding member within our community," Weber said. "That's why we saw scholarships as being a better way than doing a reception."
The scholarships will be distributed based on factors like GPA and volunteer experience.
Senior Shaymus O'Brien, a member of Sigma Chi, said he thinks the scholarship will benefit the community and engage people outside of Greek life.
"These scholarships, to me, in all ways really engage the Greek community and hopefully open more doors for people that might not otherwise be considering it," O'Brien said. "I'm happy that we can have the funds to hopefully promote growth for all members of our community."
IFC plans to have two people from the Office of Fraternity & Sorority life and one from the office of Student Unions & Activities to be the judges to pick from a pool of applicants. Weber said it is important that the judges are fair and unbiased.
Andrew LaFortune, the newly elected IFC president for 2020, said he wants to keep providing IFC with scholarship opportunities in the future.
"Diverting some of that budget towards supporting scholarship … will definitely help encouraging joining Greek life and do a lot more to show up the positive aspect of it rather than just the social side of things," LaFortune said.