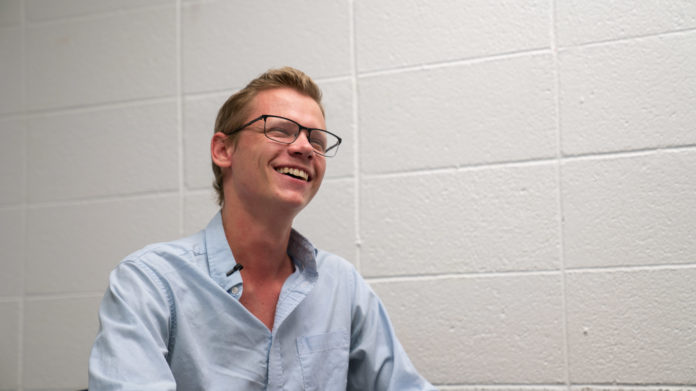 Stereotypes can pin sororities and fraternities as seemingly vain and egotistical at times, but those same organizations can impact the community in profound ways.
Ryan Forrey, a fifth-year geology major at Colorado State University who was diagnosed with Hodgkin lymphoma a year ago, said FarmHouse, a fraternity at CSU, is the reason he is able to afford to go to school and pay for his chemotherapy at the same time.
"I personally don't have a direct connection to FarmHouse, which is what makes it that much cooler that they would go out and do something like this," Forrey said. "I have friends in a sorority that have connections with FarmHouse. They brought it up with the fraternity, and they were all for helping a CSU student, using funds that would have gone to the Lymphoma and Leukemia Foundation."
Forrey said his battle with cancer began one day when he was collecting samples for a field work assignment. He had a burning itch in his legs that persisted, leaving medical professionals confused.
Eventually, after undergoing a biopsy, Forrey was diagnosed with Hodgkin lymphoma.
"His father and I were devastated and very frightened as (chemotherapy) doesn't always work," said Angela Gilbert, Forrey's mother. "But people were very understanding of how serious this was."
Forrey said one of his greatest fears upon being diagnosed was the financial impact his disease would have on his family.
"I would feel really bad to have that whole burden fall onto my parents' lap," Forrey said. "They wouldn't have been able to cover it on their own."
Gilbert said Forrey's diagnosis coinciding with a time when the family was trying to focus on paying Forrey and his brother's college tuitions left the family financially in a bind.
"We had around $8,000 of medical expenses just from this year, and there is more coming," Gilbert said. "But it would have been really difficult for our family to pay Ryan (Forrey's) college expenses and still meet his medical expenses at the same time."
And then FarmHouse stepped in.
CSU FarmHouse chapter President Reid Ernst said the fraternity traditionally donates to the Leukemia & Lymphoma Society and raises money through Totally Baldacious, an annual event where community members donate money to be able to shave a FarmHouse member's head.
This year, however, the fraternity decided to donate the proceeds to Forrey.
"By donating locally, we are better able to demonstrate to our members and the community the impact that active involvement and dedication to your community can have," Ernst wrote in an email to The Collegian. "We see the importance in giving back to our community when the opportunity presents itself."
Even with the support of his friends, family and professors, Forrey said it was FarmHouse who made him realize how much support he has from the CSU community, and at the end of the day, FarmHouse's donation made him feel less isolated and alone.
"It really took a lot of stress off my shoulders knowing that I could take a step back and breathe without having to worry about the financial part of it," Forrey said.
Gilbert said the donation from FarmHouse lifted a weight from Forrey's parents' shoulders, and it came as a shock to Forrey's family that a group of strangers was willing to dedicate their annual charity function to Forrey and donate all their proceeds to his disease.
"That donation from the FarmHouse fraternity really made a big difference for our family," Gilbert said.
Since his diagnosis, Forrey has made some progress with overcoming his disease.
"I have hair again, so that's a step in the right direction," Forrey said.
After undergoing six months of chemotherapy, Forrey is now waiting to receive more test results to determine the exact state of the disease.
"If you can do something for someone, that's great," Forrey said. "But if you can do something for someone that has a seed effect, that's really good. It made me feel a lot less alone at CSU knowing that there are people I don't even know that seem to care about what I'm going through."