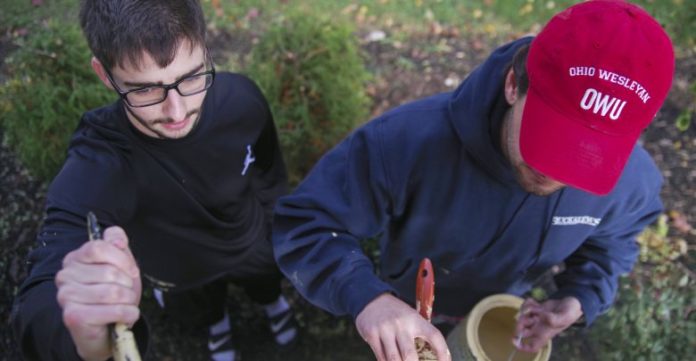 Ohio Wesleyan's greek members impacted the lives of a mother and her eight children with their service this year in the Delaware community.
The fraternities and sororities served the Delaware community in a new way this year. In the past, greek organization members came together on one day during the semester and did a service project. This year, the service was spread throughout the semester and called Greek Season of Service.
"I wanted to do more service than one day a semester," said senior Kate Wallrabenstein, greek service coordinator. "This way it was also more flexible because everyone got to pick service opportunities that worked best with their schedule."
Greek life service initiatives changed from environmental service projects in the past, such as planting trees and picking up trash around Delaware, to members engaging with people in the community, according to Wallrabenstein.
"This changed our goals from bettering the community aesthetically to helping the people within it," Wallrabenstein said.
Greek Season of Service took place at the Common Ground Free Store in Delaware. Common Ground, 193 E. Central Ave., is a non-profit organization that provides essentials such clothing, shoes, diapers and toiletries to the shoppers at no cost. The staff also prepares a hot meal for their shoppers to enjoy at the store.
Greek members signed up for different dates to serve, and 10 to 15 members attended each event. Greek members sorted donated clothes, served food and assisted in running the store while families shopped and dined.
"We receive a lot of donations, which is a good thing," said Jill Ignaszewski, Common Ground volunteer manager. "The sorority and fraternity volunteers from OWU were a tremendous help with sorting through those, as well as helping where needed and being a smiling face to talk to shoppers."
Common Ground is an important service for many families. Isabel Baker is the mother of eight children all under the age of 15. She and her husband both work full-time, but struggle to maintain financial stability.
"I am so grateful for this store," Baker said. "Common Ground helps take some of the burden off so we can use our income to pay for food, bills and rent. It really helps not having to buy as many clothes for eight kids."