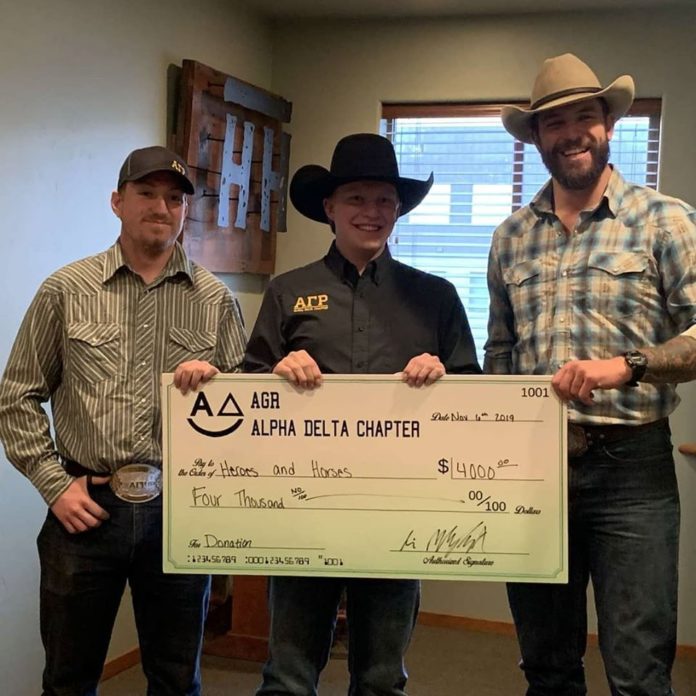 The Alpha Delta chapter of Alpha Gamma Rho (AGR) at Montana State has been very busy in the philanthropy department over the course of 2019. The chapter came up with several new events and outlets for donations making it one of the most successful years yet. According to Alpha Gamma Rho's Home Office, the chapter has raised $40,000.
AGR started in the spring with a Horseshoe Scavenger Hunt during State FFA convention which raised money to purchase FFA jackets for members across the state.
As the fall semester kicked off, the first event the chapter held was called Burning Hog. Now an annual event for Alpha Delta, during Burning Hog they roast whole pig through the night and feed at least 300 people. In 2019, the chapter raised $1500 which completely funded the Teen Leader Workshop at the Gallatin Valley YMCA.
2019 also saw one of the biggest and most successful years for Testicle Festival and it paid off big for the chapter and the non-profits they support. Two headliner bands, Ian Munsick and Ross Cooper played on homecoming night in front of a crowd of 800 country fans. The AGR members were able to bring in over $20,000, which went to the Farm Rescue, Heroes and Horses, the Montana 4H Foundation and the FFA Foundation.
Also, this year they continued in giving grants to some of the best and brightest members in Montana FFA to help them with their Supervised Agricultural Experience (SAE) projects. This brings the total donations from the chapter for the year to well over $26,000!
The men of Alpha Gamma Rho hope to carry this huge success into next year to have even a bigger and better year! If you're interested in learning more about the Alpha Delta chapter of AGR at Montana State, visit their website here: www.agrmontanastate.com. The chapter is always looking to add sponsors to Testicle Festival to continue their philanthropic support, so feel free to contact AGR at 406-587-4251.