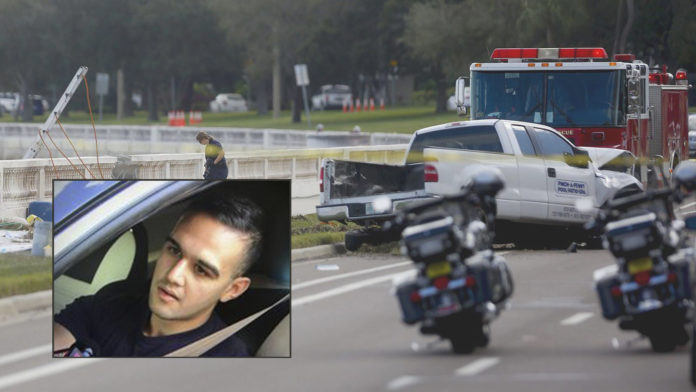 TAMPA — Christopher Martinez noticed the white pickup truck because it was driving erratically as it sped past him on Bayshore Boulevard on Thursday morning. It must have been doing 60 mph, he thought.
About 10 seconds later, he saw the Pinch a Penny pool supply truck had crashed head-on into the balustrade. The driver was lying injured on the ground. Martinez, a University of Tampa senior and Zeta Beta Tau Fraternity brother, stopped to help when he heard someone shout:
"Oh my God, there's a body in the water."
Martinez ran to the railing and saw a man face down in the waters of Hillsborough Bay.
He jumped in and lifted his head out of the water. The man was severely injured.
Another two passersby jumped in to help. Together, they held the man's head out of the water and anxiously searched for a pulse. They couldn't find one. The water was waist deep. There were no steps nearby to carry him back onto land, so they leaned against the sea wall and waited for help. As the minutes ticked past, they stayed quiet, speaking only to share their names.
When they arrived, firefighters used ladders and a basket to lift the man out of the bay and rushed him to a hospital. Tampa police said he later died of his injuries.
"I was just doing what I needed to do," said Martinez, 22. "You see something happen, you react."
The driver, Benjamin Douglas Ehas, 31, was arrested that night on charges of DUI manslaughter and vehicular homicide.
He had a blood-alcohol content level of 0.234, according to Tampa police. That is nearly three times the level at which Florida law presumes impairment, which is 0.08.
The crash took place at about 11:13 a.m., and Ehas was hospitalized soon afterward. That is where police said they obtained his blood for testing. No information about his medical condition was released. He was interviewed by detectives at the hospital.
Police said earlier in the day that speed may also have been a factor. The speed limit on Bayshore Boulevard is 35 mph.