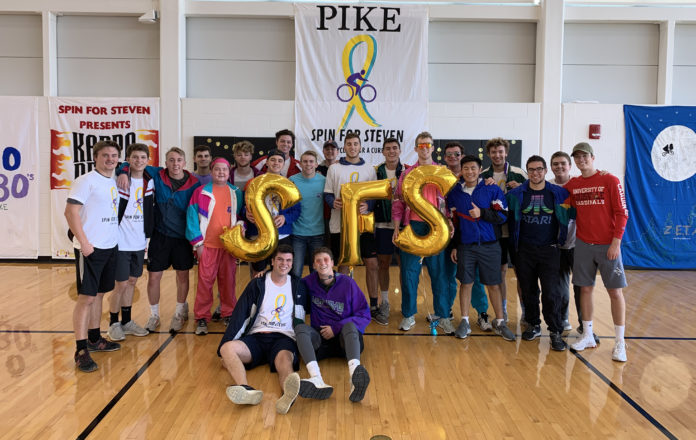 MEMPHIS, Tennessee – Pi Kappa Alpha International Fraternity is pleased to highlight Kappa Zeta Chapter (Louisville) as the December 2019 Chapter Spotlight. Cole Roberts '17 shares more about the chapter's philanthropic efforts.
Spin for Steven is Kappa Zeta Chapter's signature philanthropic event. Created in 2016, the event benefits the Steven Vanover Foundation, a local nonprofit that seeks to find better treatment options and a cure for sarcoma.
Following his graduation, Steven Vanover '08 started a career in engineering. Shortly after, he was diagnosed with a rare and aggressive form of sarcoma, Desmoplastic Small Round Tumor (DSRCT), a soft tissue cancer that typically forms in the abdomen or pelvis of young adults. He quickly began treatments, including chemotherapy and music therapy. During treatments, Vanover was determined to keep a smile on his face. He played music, spent time with loved ones, fished at his favorite lake, and even proposed to his girlfriend of five years. He lived life to its fullest.
He battled cancer for nearly 15 months, undergoing infections, setbacks, and eventually facing a lack of treatment options. Vanover passed away at the age of 24 on March 12, 2015, but his story is so much more than his battle with cancer. Steven Vanover '08 remains a pillar of Kappa Zeta's brotherhood.
In 2016, Kappa Zeta Chapter decided to revamp its philanthropy event to honor Brother Vanover's memory, and Spin for Steven was born. The event consists of a cycling circuit, in which hundreds of cyclers ride stationary bikes for 15-minute increments. Participants also compete in an obstacle course, volleyball tournament, and banner competition leading up to the event. A memory tent with photos of Steven and his story is on display each year.
Over the past four years, the chapter has raised over $120,000 for the Steven Vanover Foundation. In 2019, the event raised $44,456 alone.
Brothers of Kappa Zeta Chapter are devoted to preserving Vanover's memory. They look forward to Spin for Steven reaching even greater heights.