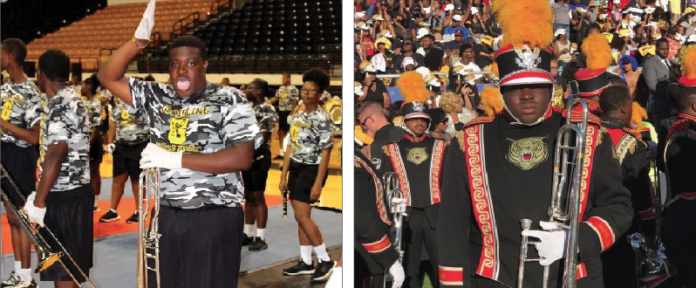 Balancing a class schedule, social life and schoolwork alone are enough tasks for most college students.
It takes a lot of dedication to join extra curricular activities, many times it takes a group effort to pull everything together.
There are sacrifices that come along with joining social groups and service organizations, a big one being time.
Carlin Tate, a junior music education major, not only is he dedicated to the World Famed Tiger Marching Band, but he is also a member of the Omega Psi Phi Fraternity, Incorporated.
"Being a part of World Famed and Omega Psi Phi Fraternity Inc. gives me the opportunity to be diverse and show love for two of the greatest organizations that are very near and dear to my heart," Tate, a Shreveport, La. native, said.
The band alone has very complicated schedules with practices that usually get out around 10 p.m. and even later depending on the specific games coming up and traveling early mornings for away games.
To be a member of the World Famed Marching Band is a sacrifice many people could not make, this specific group of students are not granted the full social life experience college has to offer, missing many parties and student activities.
"I most definitely feel like I miss out on the full Greek experience because band is so time consuming, but I understand that's what comes with being a part of the program," Tate said.
"Between homework and band, it's amazing that band students even manage to squeeze sleep into their schedule let alone joining a Greek organization."
Omega Psi Phi is an international service organization apart of the National Pan-Hellenic Council, a collection of historically black fraternities and sororities who all look to impact the world in a positive light.
The Omegas provide community service initiatives in order to enhance their communities and the world.
With programs such as "Brother, You are Mind," which tackles the social issue of mental illness and "Project 19.11," which raises funds for ongoing efforts of the Smithsonian Project and supports a community service project that educates African Americans on how to conduct themselves when stopped by law enforcement, Omega Psi Phi provides great resources to society.
There is a lot of work that goes into organizing successful events that make an impact in the lives of others.
"What I love most about being an Omega, is the fellowship with my brothers and networking, with not only my chapter, but brothers around the world," Tate said.
By upholding the standards of being an Omega man and a member of the World Famed Tiger Marching Band, Tate has proven to be an extraordinary student while maintaining a competitive above average grade point average.
"What I love most about being in band is that it gives me a chance to use what I am learning in music theory and applied classes to help other band members," Tate said.
With aspirations to teach music and continue to serve the community, Tate is expected to graduate from Grambling State University in spring 2021.