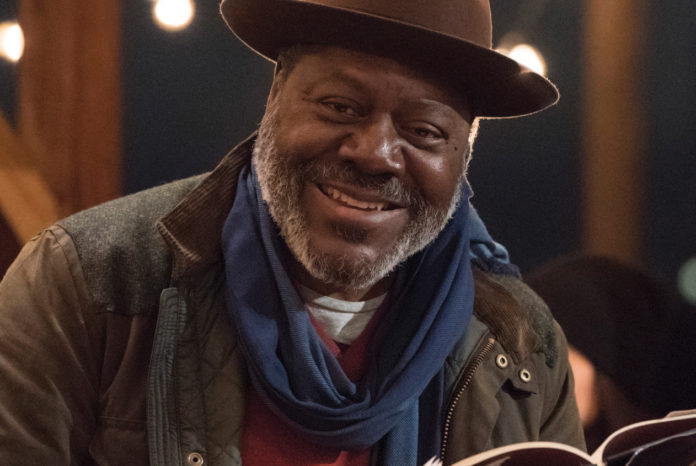 Since earning an MFA from NYU in 1974, Frankie Faison (Theta Chi, Beta Rho/Illinois Wesleyan 1971) has consistently acted on stage, film, and television with more than 100 credits to his name.
On Broadway, he earned a Tony nomination for Best Supporting Actor in August Wilson's Pulitzer-winning play, Fences. His other Broadway appearances include Getting Away with Murder, Of Mice and Men, and revivals of The Iceman Cometh and The Shadow Box. Faison is the only actor to have appeared in all the major Hannibal Lecter films which include Manhunter, Silence of the Lambs, Hannibal, and Red Dragon. Other films in his impressive body of work include The Thomas Crown Affair, Mississippi Burning, Do the Right Thing, Gods and Generals, and Coming to America. His notable television roles include True Colors, Prey, Banshee, The Village, and HBO's acclaimed series, The Wire. We sat down with Brother Faison at his wife's café in Montclair, NJ.
The Rattle: Tell us why you went to Illinois Wesleyan.
Frankie Faison: My older brother was playing football at the University of Illinois. When it came time for me to leave Newport News, VA, I knew I wanted to be near him. I looked for schools in Illinois that had a strong theater program and found Illinois Wesleyan. I went there and auditioned and met the people and enjoyed them and the rest was just the beginning of a wonderful experience. Ironically, my brother transferred when I started college, but that was good because it helped me to mature as a person by not having him 50 miles down the road.
R: How did you first get introduced to Theta Chi?
FF: Joining a fraternity was an afterthought for me. I didn't really know much about fraternities, but it seemed like something to do, so I did. During the first week of school, you go from house to house and I really liked the guys at Theta Chi and they seemed very much like a group of people I would enjoy being with. I got a chance to pledge from Theta Chi and from one other fraternity. Remember, I came along in 1967/1968, still very turbulent times, racially. The fraternities at Wesleyan, including Theta Chi at the time, had been segregated. I found out later how significant my pledging was at that time because it was a racial barrier breaker for fraternities at Illinois Wesleyan.
FF: I never thought about it much, but it was something I had to deal with, and not just from the fraternity, but from the other organizations on campus, as well. People didn't really know what to make of me. I was free-flowing and I integrated myself in every aspect of college life that I could. As a football player and student actor, I knew people who were in athletics, music, academics—everywhere. I'm sure there was stuff coming from others around campus, but I remember when we traveled to different places to play intramural basketball, I stood out, but I never felt any discomfort or any challenges come from anyone.
Illinois Wesleyan had a very small black population of only of about 50 people. There wasn't a black fraternity at the time, but one started up the next year and I had already joined Theta Chi. Sometimes it was tough because the black community was like, "Why are you in the white fraternity? Why don't you want to be with us?" and I would tell them, "If you had been here at the time to pledge, I might very well have joined the black fraternity." When I went to college, I wanted to have a total experience. If you segregate yourself into small pockets, you're not going to be able to get to the diverse kind of experience that you want to have. I think Theta Chi totally broadened my life and my experiences by being a place that was different so that I could learn about other aspects of life. Theta Chi had a great group of people and I still hold the Theta Chi experience very fondly, very dearly in my heart. It helped me make that transition from high school to college. It was amazing and I always knew I had a family and a group of people who had my back.
R: Are there any other challenges you remember?
FF: I had one incident in Theta Chi during my second year that troubled me for many, many years. Although it was a show of courage from the Fraternity to really fight to have me become the first diverse person in the Fraternity, I knew there were a couple of guys who had blackballed me. During weekdays, our dinners at the house were very formal and officers had specific places at the head table. Weekends were more casual and everybody would just sit wherever they wanted. Everybody did that all the time. I remember one weekend I was sitting in a seat where one of the officers usually sat. That officer wanted that seat and I said, "Come on, don't be ridiculous." He made a racial epithet towards me and I was furious. I was a very big, very physical, very in-shape guy at the time and I just wanted to crush him because of that. I thought, "You're my fraternity brother— and you would say this to me?" The brothers who were there swarmed around me and played it off. But from that moment on, it was always tense between he and I. That incident stood out. It was significant and it was a growth spurt for me. In my acting, I draw upon certain emotional feelings and whenever I needed to draw upon an emotional feeling of a racist attack, I would always go back to that place. Eventually, it got to the point where it was too much of a burden for me that I just needed to accept, forgive, move on, and let it go. Other than that, I have nothing but fond, amazing memories and friendships. Even the other guy who blackballed me ended up becoming a very dear friend of mine because I guess he finally saw that you can't judge someone by the color of their skin.
R: What are some of these fond memories that you have?
FF: The first two years I was in the fraternity house and it was just amazing. We had a pretty good basketball team, so I remember traveling and playing intramural sports. I remember doing serenades and singing Theta Chi songs—which still stick in my head—like "Dream Girl of Theta Chi."
I had a great time pledging and forming bonds with my fellow pledge brothers. Since I lived so far away in Virginia, I remember going to different pledge brothers' homes for Thanksgiving. My Pledge Father Jim Gale (1971) became such a very close and dear friend. I hear from the guys every now and then and they've always been very supportive of me as a football player and they were even more supportive of me as an actor.
R: Brothers came to your games and shows?
FF: The came to everything. They were such a supportive group because I was opening up new horizons to them as well as them opening up horizons to me. There were guys who weren't very athletic and they got a chance to come to the football game and there were people who weren't very arts-oriented, so they got a chance to come see me put on these outfits and act. It was amazing and a great exchange.
R: Could you tell us a moment you were proud to be a Theta Chi?
FF: From the first day—the fact that they took the courage to break the racial barrier and go for somebody who they thought was a good fit for the Fraternity—that they closed their eyes to the color of my skin or my race. That made me tremendously proud; I was proud to stand tall with them because they were proud to stand tall with me. The moment that I was sworn in, I could see that they had really opened the door to diversity within the Fraternity.
The next couple of years there were a few more black pledges that came in, like Harold Eley (1973).
R: How did Theta Chi help you as an actor?
FF: By enlightening me to different cultures and giving me practical first-hand experience with different types of people from various backgrounds that I may not have been exposed to for years. I could always be open and frank with my fraternity brothers about anything that was going on in my mind and vice versa. It helped me a tremendous amount and especially when I got a chance to share some time with the families, I got even more of an in-depth awareness. It just made me understand what I've always believed anyway: People are just people. You've got good people and you've got people who are not great, but people are people and as long as everybody is being courteous and respectful of one another, then you can move forward with life.
R: What are your thoughts about playing Caliban in The Tempest and how you played it in college versus how you may do it now?
FF: The way I would do it now would just be a little bit more of an enrichment to the way that I did it then. Who I was back then and who I am now are light years apart and I've grown and I've had 50 years of life experience. I understand things to a much greater depth now about Caliban that I didn't understand then. Then I was just sort of like going through the motions and playing the emotions from a much more outward sensibility, sensitivity. But now it would be much deeper inside of me and I would understand this character and why he was struggling for freedom and suffering.
R: What inspired you to be an actor?
FF: My inspiration to be an actor started when I was 6 or 7 years old. It came from the church because I was always doing the church pageants and welcoming the visitors. I was always interested in the theatrics of the pastor—he's up there and he can yell, scream, and be whatever he wants to be. I just always knew I wanted to be an actor. I would always do the plays in elementary school and high school and I was always encouraged because people saw that I had talent. I feel very blessed because I sometimes think if you know what you want to do at an early age, you get a bit of an advantage, or maybe not, but it worked out for me.
R: Any favorite plays or films?
FF: I remember watching James Earl Jones in The Great White Hope and being com-pletely blown away by the power of acting. Another play that he did was an Athol Fugard play called Boesman and Lena which co-starred Ruby Dee—I got to see them perform every night while I interned at The Circle in the Square Theater the summer before my senior year. When I went back to Wesleyan, I knew that I had to return to New York soon because I wanted to be where there was so much vitality and energy in acting. A Raisin in the Sun with Sidney Poitier and On the Waterfront had characters that I could connect to. I also loved a production of King Lear starring James Earl Jones—I played a spear carrier. I was enthralled and drawn to all the classics. I was always interested in being a complete, well-rounded actor and knew I had to study the Greek classics and Shakespeare.
R: If you could go back to a young Frankie at Illinois Wesleyan, what advice would you give him?
FF: Follow your heart. Be considerate, be respectful, and enjoy life. Be open to the challenges that life presents because you never know what's around the corner. That's the advice that was always given to me and it served me well.
R: Any upcoming projects you'd like to share?
FF: I have a very exciting independent film that I'm very proud of called The Killing of Kenneth Chamberlain. It deals with a senior citizen who used his medic alert device and is confronted by the first responders. It's a true story and it was shot in documentary style. It was an intense two weeks shooting that. I'm very excited for people to see it. I also have a film coming out in 2020 called The Grudge, which is a remake of that horror film series. I also have a comedy film from Sony Pictures coming out called Fatherhood. So tune in: I have a comedy, a horror, and a drag 'em out drama that borders on tragedy.
R: What's your definition of a Resolute Man?
FF: When I hear the term resolute, I associate it with very strong, affirmative, and positive action. I think it connects to all the decent things that we honor and respect. It doesn't cost anything to be a decent human being. Nothing at all. It's free. A Resolute Man adheres to those traits and in everything that he does and says because there is a responsibility that comes with that.
R: Any message you'd like to share with Theta Chi brothers?
FF: Wear the letters and Badge with honor and a sense of pride. Remember you have a social responsibility. People are watching you. You need to take a very strong leadership role in your society, in your university, and in your life. If you see something that you don't agree with, or you can't be confident and stand behind, then say something because it's the only way you can learn, grow, develop, and carry on the Theta Chi tradition—a tradition that is well founded upon leadership and honor.