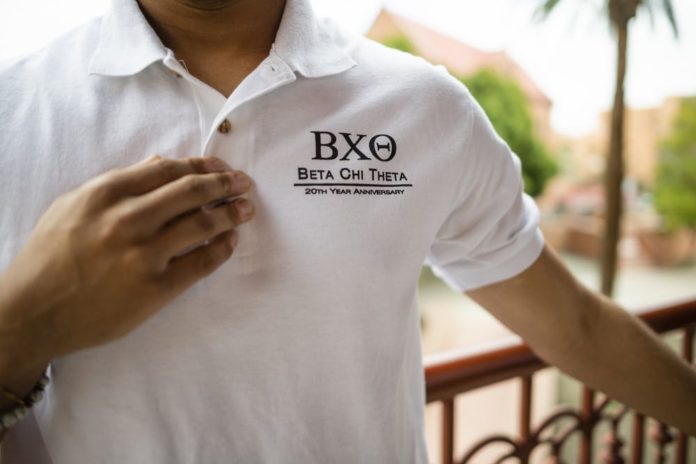 What started as a joke between friends has now transformed into Arizona State University's first and only South Asian fraternity on campus.
Beta Chi Theta was officially added to Greek life last semester and has plans to grow.
Vivek Amin, a senior studying biomedical sciences had the idea to start a South Asian fraternity his freshman year.
Amin is an only child who was searching for brotherhood. During his freshman year at ASU, he said he didn't see enough South Asian representation in Greek life.
He formed an interest group of other South Asian students and for two years, Amin and six members of the interest group began actively recruiting students.
Each semester, the interest group continued to grow and now has a diverse group of 25 men. Beta Chi Theta focuses on promoting South Asian culture but is not exclusive to South Asian students.
Their mission is to promote brotherhood, which members say is easy when many of the brothers have similar backgrounds. According to Amin, Beta Chi Theta offers a home away from home for any men looking for a family at college.
Mithil Khemani, a sophomore studying psychology, said he wanted a family at ASU since his family lives in Dubai. Khemani said he wanted a place to call home where he could still embrace his South Asian roots.
"It's the best experience of my life," Khemani said. "I know that even when I graduate, my brothers and I will stay in touch and still be there for each other."
Khemani said he has become more outgoing since joining the fraternity. Beta Chi Theta hosts rush events and collaborates with other Greek life organizations to help brothers network and meet new people.
Beta Chi Theta members want to assure this fraternity continues on well after original brothers like Vivek Amin graduate. Beta Chi Theta trains and mentors the younger members from the start.
Tanay Gandhi, a sophomore studying computer science, is currently the vice president of Beta Chi Theta. As vice president, Gandhi oversees delegations of the fraternity and plans philanthropy events.
Gandhi is an only child, so he was looking for the brothers he never had and loves how much they can rely on each other, both in the fraternity and outside of it.
Gandhi believes that Beta Chi Theta is different from all the fraternities on campus because every brother knows each other on a deeper level and no member is just a number in the fraternity, every brother has a name and a story
"We strive for quality over quantity with the brothers that join Beta Chi Theta," Gandhi said.
Beta Chi Theta offers a wide variety of networking opportunities through internships, resume building and speaking with Beta Chi Theta alumni from across the country.
Amin also makes sure the parents of the brothers are comfortable with their son's membership and has written personal letters and spoke one-on-one with parents to assure them that this is where their son belongs.
Amin is graduating this year and wants Beta Chi Theta to continue to thrive once he and the few original members are gone. He said he hopes that the younger members will follow the example he has set so that the respectable legacy lives on.
Brotherhood is the most important component for Beta Chi Theta. Every brother wants to see the others succeed and if they don't, they will be there to help pick up the pieces and support them, Amin said.
"If you're around good people, you have no choice but to be good," Amin said.