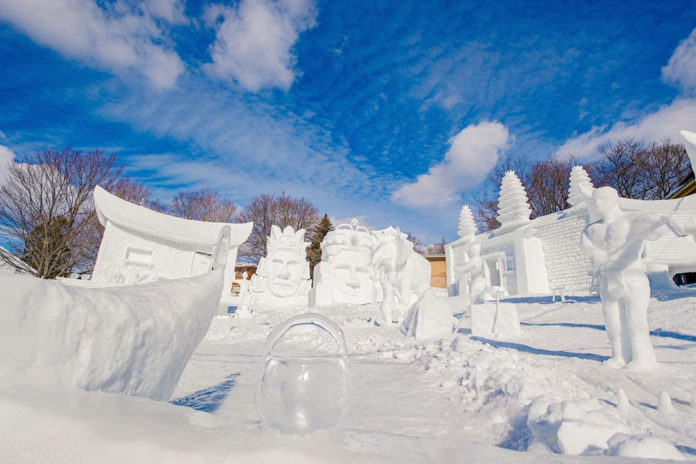 HOUGHTON, Michigan — A Bronze Age tribute got Phi Kappa Tau the gold.
The Michigan Technological University fraternity won its third Winter Carnival snow statue crown in the past four years.
Its "Dongson Fishing Village" statue is located outside the fraternity's house in Hancock. It depicts life among the Dongson, which flourished in what is now northern Vietnam from about 1,000 B..C to 100 A.D. The choice was made in keeping with this year's Carnival theme, "Discover What Shines From Prehistoric Times."
Tau Kappa Epsilon finished in second with its "Stone Age" statue. Third place went to the co-ed team of Sigma Tau Gamma and Alpha Gamma Delta for "Wooly Mammoth Surrounded by Saber Tooth Tigers."
In all-nighter statues, the overall winner was St. Albert the Great, followed by Pavlis Honors College and Lutheran Campus Ministry ELCA.
Campus organizations spent Wednesday night either building statues from scratch or putting the finishing touches on their monthlong statues.
The Army Reserve Officer Training Corps, which finished fourth in the men's division, decided this year to scale their month-long statue down to focus more on detail work. It had its intended effect, as passersby stopped to marvel at their creature of a dinosaur with a tank on top.
The details included spikes, scales, nostrils and tongues. The extremities were the toughest part, particularly the large dinosaur head, said Lucas Catron, a fourth-year computer science major.
"We've been trying to slowly narrow our our support, and praying that we don't end up collapsing," he said.
On the smaller dinosaur, one turret had already broken five times Wednesday night, Catron said.
The 75 cadets put in more than 1,100 hours before the all-nighter. The response from the community makes it worth it, Catron said.
"It's not every year that we put together a statue that oohs and aahs the crowd," he said. "We've had groups of people come by and go 'That's the best one all night.'"
In contrast to more frigid building conditions of recent years, this year's groups contended with above-freezing temperatures for stretches last week. That hurt construction, but groups like Tau Kappa Epsilon were making up for lost time, said member Eric Eschenburg, a third-year mechanical engineering major. During the month, members head out to the statue after classes end around 6 p.m., and continue until around 1 a.m., Eschenburg said.
"It's amazing watching this site go from this big flat yard and then building it all the way up into this huge snow statue," he said. "It's great. We're seeing everyone work together."
The Intervarsity Christian Fellowship, which finished in fourth place in co-ed all-nighter statues, based their statue on a meme: two dinosaurs watching Noah's Ark float away and going, "Oh crap, was that today?"
or a full list of finishes, go to mtu.edu/carnival/2020.