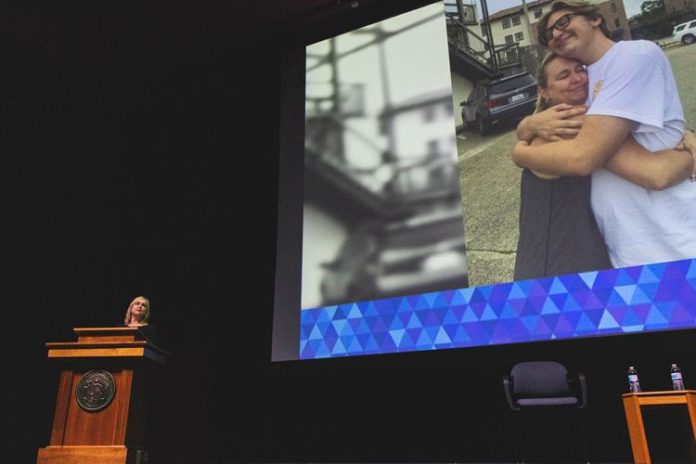 A young man passed out on the couch in a fraternity house after pledging. His skin was cold and clammy. His fraternity brothers left him on the couch after forcing him to drink multiple times throughout the night. His blood alcohol level was 0.495%.
Another young man pledged into a fraternity. During the night of his pledge, he was forced to binge drink. That night, he was so drunk that he fell down the stairs of the fraternity house, suffering multiple internal and external injuries. He was taken to the hospital later where he eventually was pronounced brain dead and went into cardiac arrest.
Both men died from hazing in their fraternities. After their deaths, their mothers got in touch and began anti-hazing research to combat the issue. Eventually, the mothers started an anti-hazing prevention that made its way to Northwest Feb. 6.
"I want you to put yourself in our shoes."

Evalyn Piazza
Rae Anne Gruver and Evelyn Piazza are the mothers of the late Max Gruver and Timothy Piazza. The two mothers gave their presentation, "Love, Mom and Dad," to Northwest's Greek Life and Greek Life students from several other schools at the Ron Houston Center for the Performing Arts.
"The actions taken by these hazers resulted in my son's death," Rae Anne Gruver said.
The anti-hazing convention was hosted by Greek Life as part of a weekend-long 2020 MIAA Executive Greek Leadership Retreat.
Throughout the course of the weekend visiting universities and Greek Life at Northwest participated in several events Feb. 6-8.
Megan DeShon, the assistant director of Greek Life, said this retreat was the first ever for the MIAA and Northwest's Greek Life coordinated and hosted the entire weekend. Other universities within the MIAA were invited to participate in the retreat.
"It was awesome. I think it went really well," DeShon said.
DeShon said the events on Feb. 7 and Feb. 8 had nearly 100 people from leaders in Northwest's Greek Life and Greek Life from other universities.
Some of the other events in the retreat were a keynote speaker about risk management, Lori Hart, break-out sessions with advisers on campus that gave presentations on various topics applicable to Greek Life and several other activities.
"A lot of what we focus on in Greek Life is to make our community safer," DeShon said.
Other universities that attended the event included Emporia State University, Missouri Western State University, Baker University, Pittsburg State University, University of Central Missouri, University of Nebraska at Kearney, Missouri Southern State University, Washburn University and Northeastern State University out of Oklahoma said they learned an abundance of useful information that they plan to take back to their universities or groups that they are associated with.
"I learned a lot that I actually didn't know before," an Emporia State student said after the presentation. "I have been to hazing presentations before … but, like, this one was different for some reason. This one kind of touched my heart a little bit."
Peyton Hobbs, a member of Phi Mu at Northwest, also had positive things to say about the presentation.
"I thought it was very informational. I thought it was amazing that they could come up here and share their stories considering how horrible they sounded," Hobbs said. "I thought it was very informational to hear, like, a mother's point of view."
In an email, DeShon, said there were over 700 Northwest Greek Life members in attendance at the presentation.
"I think it is so important for students to hear the other side of hazing. It's not just about exactly what's happening to the members and it's not about what's happening to the chapters, but it's also about … the ripple effect–the impact that it has on everyone involved," DeShon said when commenting on the "Love, Mom and Dad" presentation.
More than half of college students involved with sports, clubs, teams and organizations experience some form of hazing, and 47% of students experience hazing before coming to college, according to stophazing.org.
According to hazingprevention.org, examples of hazing include but are not limited to: forced activities for new recruits to prove their worth, forced or required consumption of alcohol or other substances, eating spicy foods, forced or required hardships such as staying awake and physical labor, humiliation, beatings and illegal activities.