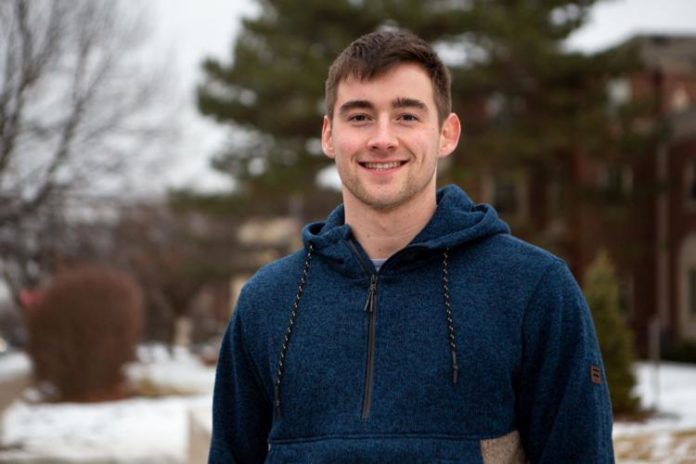 Parker Williams grew up surrounded by his parents' fraternity brothers and sorority sisters. The Greek friendships he witnessed growing up sparked his desire to join Farmhouse and follow in the footsteps of his father, a Farmhouse alumnus.
The University of Nebraska-Lincoln Interfraternity Council chapter delegates elected Williams, a junior mechanical engineering major, to be the IFC president for the 2020 term year. Williams said he decided to run for IFC president because of his passion for the Greek community, and his main goal as president is to showcase the benefits the Greek system brings to the Lincoln community.
"Since I have been there first-hand, I've just experienced [the Greek community] and had such a positive impact on my life as well, because I made so many great new friends and it's pushed me to be better in all aspects of life," he said.
Williams said he wants to display the positive side of the Greek system and how it impacts the lives of UNL students. Williams said he also wants to increase safety in the Greek system and host IFC-sponsored philanthropic events.
Michael Anderson, a junior accounting major in Farmhouse, said he went to Norris High School in Firth with Williams. Since the two were in high school, Anderson said he has watched Williams grow into a leader.
"In high school, Parker was kind of known to be a little unorganized and kind of sporadic. He was always kind of hard to get a hold of," Anderson said. "Ever since we have come into college especially, I've seen him get really organized and responsible, and really like seeing, when he decides that he wants to do something, how much time and effort he puts forth into it — really how much he can help make things grow."
Along with his role as president of IFC, Williams is on the Engineering Student Advisory Board and is the philanthropy chair for Farmhouse. Last year, he was the alumni relations chair for the fraternity.
Anderson said Williams's experience will make him a great president for IFC.
"He's really passionate about this stuff," he said. "I know that when Parker sets his mind to something, that he'll do everything he can to get the job done."
As president, Williams said he leads and sets agendas for all the meetings. He said the biggest challenge has been keeping his calendar in check, with at minimum four meetings a week as IFC president. Despite the challenges, he said he's excited for the freedom the council has to work on its goals.
"If there's something we want to see done in the Greek system, we really have a lot of freedom to go after it and try to get it done," he said.
Williams said the amazing connections he has made in Farmhouse have contributed to his growth as a leader. He said he is excited to not only work toward his own goals as president, but also encourage his executive team to reach their goals.
"The quality of guys I have been exposed to in Farmhouse is just really, really high," he said. "The networking opportunity to be able to make friends that are leaders and are striving for success just like yourself is an awesome opportunity for me."