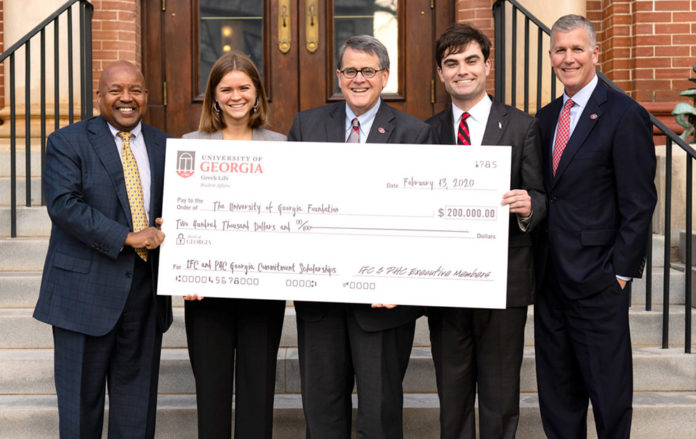 The University of Georgia Panhellenic Council and UGA Interfraternity Council each gave $100,000, matched by the UGA Foundation, to establish two endowed, need-based scholarships through the Georgia Commitment Scholarship Program.
"We are so excited by and proud of these councils and their member organizations," said Victor K. Wilson, vice president of student affairs. "Our students understand the value of a UGA education, and to see them commit to providing that opportunity to others—in perpetuity—is inspiring."
The Panhellenic Council governs UGA's 19 female fraternities and sororities that are members of the National Panhellenic Conference, and the Interfraternity Council represents 26 member fraternities at the university. The two councils gave to these scholarship funds on behalf of their member organizations, and both scholarships will support an incoming freshman in the 2020 fall semester.
"The students that contributed to these gifts are among the most engaged and motivated at the university, but this goes above and beyond," said Eric Atkinson, associate vice president of student affairs. "Their commitment to UGA will now live far beyond their years on campus and will enrich the university forever."
Through the Georgia Commitment Scholarship Program, the UGA Foundation matches—dollar for dollar—any gift in the amount of $50,000, $75,000 or $100,000 to establish an endowed, need-based scholarship for undergraduate students. The scholarship is awarded within a year of the donor making their gift, and from that point forward, the endowment grows—increasing the size of the scholarship award over time and helping student after student earn a UGA degree.
Since the matching program's creation in 2017, over $77 million has been dedicated to need-based aid, with over 330 donors giving to the program. Scholarship recipients also benefit from academic support in the form of tutoring, workshops, academic coaching and more.
"To make the UGA experience more accessible for future generations of Bulldogs is truly special," said Brennan Cox, UGA Interfraternity Council president. "At the onset of our term, we challenged ourselves to be campus leaders—not just fraternity leaders—and this is our commitment to doing just that."