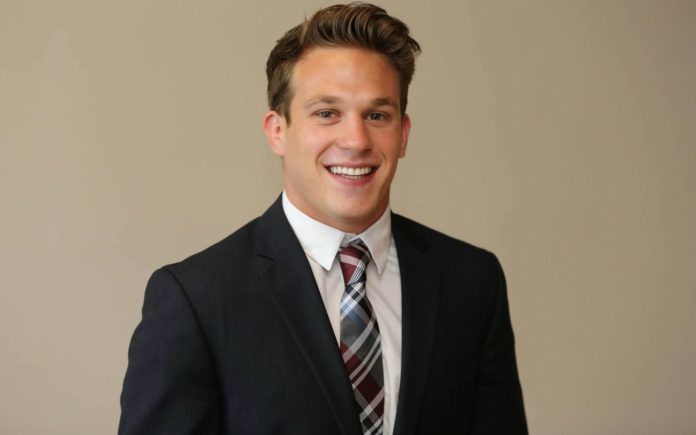 The University of Florida's Warrington College of Business is full of standout students. No matter their program or major, students are using their time on campus to prepare for impactful careers. This series features exceptional students from across Warrington.
Theta Chi brother Luke Vescovi is current combined Master of Science in Management (MSM) student with an undergraduate major in biotechnology. Learn more about what makes Luke a standout student from the Warrington College of Business.
Q: Tell us about yourself.
Vescovi: "I am a senior MSM combined degree student from New Jersey. I am a biotechnology student on a pre-med track, which I will be finishing this semester. I chose UF because I researched some of the best medical schools in the country, and I found UF was one of them. I have passion for science and once I got into UF, I stuck with biotechnology for my undergrad and ran with it."
Q: Why did you choose the MSM program?
Vescovi: "I chose the MSM program because I was not sure that I wanted to go to medical school immediately right after college. I did the MSM combined option in order to graduate with my undergrad and master's in four-and-a-half years because I wanted to see what working for the business end of the medical field would be like for a few years. I wanted to gain experience on how the medical device and pharmaceutical industry operated before I applied to medical school."
Q: What's your best experience in the MSM program so far?
Vescovi: "My best experience in the MSM program has been having access to [the resources in] Hough Hall. I have used this building every day for the Bloomberg Terminals, graduate career fair, etc. The advisors for this program are also wonderful, and truly do whatever they can to make you succeed. Brittany Tyree, who leads the career advising and programming efforts for MSM, has been amazing, and solely makes the entire program worth it."
Q: When do you graduate and what will you be doing after graduation?
Vescovi: "I graduate my undergrad in biotechnology in spring 2020, and I finish my MSM in fall of 2020. For this summer, I will be working for Roche Diagnostics; a dream company of mine as they are the largest biotechnology company in the world. This is a rotational position in Indianapolis with potential full-time hire for the spring of 2021. In addition, while being a student at UF, my family and I started up our own bagel company called Luke's New York Bagels (operating with real NY water). We currently wholesale our product to Halo Potato donuts. The backstory is my mom and dad retired from teaching and had a bagel recipe that was, in my opinion, the best. After some convincing, I was able to relocate them to Florida and start up a bagel shop (which we all realized Gainesville lacked). We just found our own place and we will be open for retail soon. My family and I found an amazing banker at Florida Capital Bank who has volunteered all of her time to get us up and running. My parents do the work, and the baking, I am the behind the scenes man who operates the finances and marketing. We're all a great team, and we work well together (on most days). The plan is to help run it until I move away to start my medical career, but who knows how far the business can grow. At that point it will be left in the hands of my parents… so for now, keep an eye out for Luke's New York Bagel Shop in the Gainesville area."
Q: Where do you see yourself 5 years from now?
Vescovi: "Five years from now I am open to anything. I told myself if I am going to apply to medical school, I would do so no later than 25. I do have a passion for medicine, and I would love to attend medical school. But I can also see myself working the other end of medicine in the sales position. I guess I am open to many avenues and always have two or three back-up plans."
Q: What do you do in the time you're not studying for your MSM coursework?
Vescovi: "In the time that I do not study for the MSM program, and outside of my business and internship, I am an active member in the UF community. I served as president of Gator MDA which is a student-run organization that benefits children with Muscular Dystrophy (MD). Our whole goal is to raise funds (we have raised $125,000 within two years of establishment) for children with MD and attend a week-long camp that is a full-assist camp where you care for MD children, which is a truly life-changing experience. I also worked for Bayer Crop Sciences doing research in the spring of 2019 and fall of 2019. I was the Executive Vice President of Theta Chi Fraternity from fall of 2018 to fall of 2019. I am also actively involved in Young Leaders Conference and Dance Marathon. And whatever time I have left, I enjoy just hanging out with friends and lots of hours in the library."
Q: What are some fun facts about you?
Vescovi: "1. I met and worked with the entire cast of the Jersey Shore (I worked at the beach that they worked at on the show). 2. I like Dunkin Donuts over Starbucks."