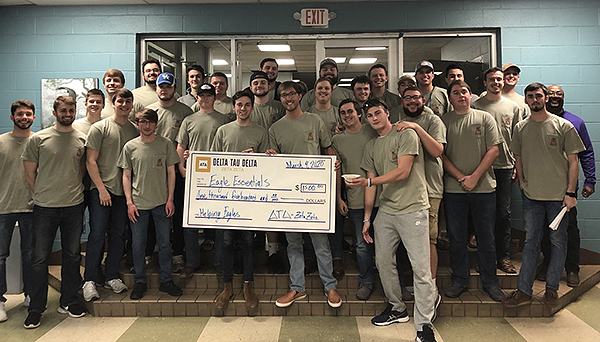 The Morehead State chapter of Delta Tau Delta fraternity held its fifth annual Chili Cook-Off at the Baptist Campus Ministries on Wednesday, March 4, to raise money for the Eagle Essentials program. The public was invited to come and sample as many of the 19 chili entries in the competition.
"In years past, we've donated to specific students or families in need, but after further discussion, this year and last year, we have donated to Eagle Essentials because as a chapter, we recognize the needs that students face and the financial burden that is upon many students," said senior Connor Tilford, a business management major from Paducah and Delta Tau Delta secretary. "We firmly believe the Eagle Essentials is effective in closing the gap between the financial burden and students' success." 
The fraternity raised more than $1,500 for the Eagle Essentials program, which provides food, hygiene products and necessary school supplies to students in need. The fraternity has raised more than $7,500 in the nine years the Chili Cook-Off has been held to benefit organizations throughout the community.
The Eagle Essentials program is in room 251 of the Adron Doran University Center (ADUC). The program accepts donations at that location and 203 Ginger Hall. Items to be donated and monetary donations are accepted.
For more information about the Eagle Essentials Program, visit www.moreheadstate.edu/eagle-essentials or call 606-783-5152.