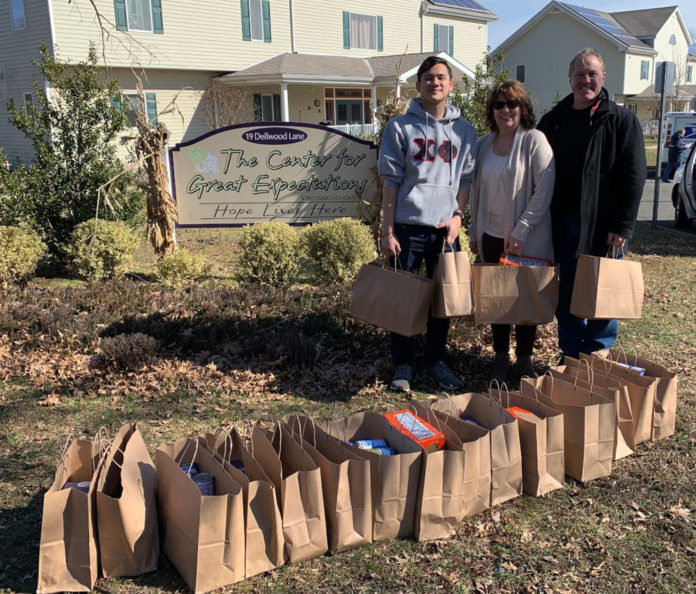 Rutgers' Chi Phi fraternity donated 25 bags of food last month to The Center for Great Expectations in Somerset, New Jersey, as part of its community service and philanthropy efforts, said Keith Miklas, alumni philanthropy and community service chair for Chi Phi.
The Center for Great Expectations provides mental health and substance use disorder treatment for women, children, men and families impacted by trauma, abuse and neglect, according to its website. Its programs include services for mothers, who were the recipients of Chi Phi's donation.
"We are so grateful to Chi Phi!" said Noreen Whittemore, the center's director of community relations. "Many of our moms have never had a home-cooked meal. The food donations allow our moms to learn how to prepare a healthy dinner for themselves and their children — taking the next right step toward a healthy, happier life."
Food donations consisted of non-perishables such as canned goods, cereal and oatmeal, Miklas said. He said he was the one who brought the idea to Chi Phi.
"I was aware of Great Expectations from previous community service work that I've done, and I know it to be just an outstanding organization," Miklas said. "What they do for people, for women and for children is really extraordinary and to have it only 4 miles from the Rutgers campus. It's just a great opportunity for Rutgers to help out."
Miklas said he bought and handed out bags to Chi Phi members to fill with food within a week. He said Gabriel Ajram, a School of Engineering junior and president of Chi Phi, helped lead the effort while Alfonso Buono, a School of Arts and Sciences junior and the Chi Phi undergraduate philanthropy chair, helped with logistics.
"Everything down to the type of bags we used was thought of," Ajram said. "We didn't use plastic bags, we used recyclable bags. There was a lot more put into it than what it may seem."
Miklas said all of the bags filled up almost immediately. He said Buono and he delivered them to The Center of Great Expectations, getting a look at the facilities in the process.
"I never really experienced anything like it," Buono said. "We walked into one of the rooms and some of the little kids were actually having naps with their moms, and it was very surreal, just seeing how our stuff can actually help impact such a group that does need help."
Chi Phi also supports the Boys & Girls Clubs of America, Elijah's Promise and Rutgers Against Hunger, among other groups, Miklas said. They intend to continue supporting The Center of Great Expectations with regular donations and will likely donate baby wipes next due to demand, he said.
Miklas said Chi Phi is planning another drive to help fulfill needs arising from the coronavirus disease (COVID-19) pandemic.
He said Director of Fraternity and Sorority Affairs JoAnn Arnholt's requirements for fraternities and sororities helped drive the center donation and other efforts. All members must perform five hours of community service each semester, and all chapters should support the chosen philanthropic partner of their national organization, Arnholt said.
"We want to be a leader in the community, to set forth this idea that fraternities and sororities are philanthropic organizations," Miklas said. "They have that spirit of charity. They give and contribute to the community."
Buono said having organizations, like greek life, participate in community service is an easy way to welcome new students and give them a large-scale group effort to do good that they can get behind.
"It opens up your view on greek life and that we aren't just like, 'Oh, let's have a party this day' or something like that," Buono said. "There are other aspects behind the door."
Ajram said despite having done volunteer work in the past, he had not understood how much of an impact Greek life can have through philanthropy. He said he initially joined Chi Phi to have fun, but many people do not see how enjoyable philanthropy can be.
"We want to give back to the community that you know we are a part of," Ajram said. "We love to see our hard work go into someone else's life and give them more life, because at the end of the day, we're given the resources, and a lot of kids are given resources but they're not often taken advantage of. So Chi Phi, we strive to do our best to make ourselves and our society better in any way we can."