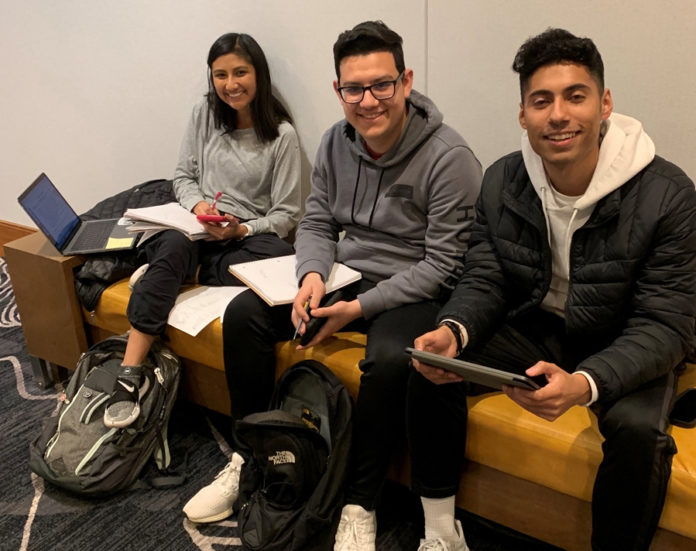 Grades are a top priority for Greek chapters, as shown in another remarkable grade report for fall 2019, in which chapters collectively earned a 3.334 GPA.
Top performing chapters included:
Pi Beta Phi (3.574) for the Panhellenic Council
Sigma Iota Alpha (3.532) for the United Greek Council
Phi Delta Theta (3.252) for the Inter-Fraternity Council
Alpha Kappa Alpha Sorority Inc. (3.142) National Pan-Hellenic Council
Other notable academic achievement included the following:
All Greek GPA 3.448; all men GPA 3.116; all women GPA 3.334
74% of all chapters had a fall 2019 GPA of 3.0 or higher
76% of all members had a fall 2019 GPA of 3.0 or higher
1367 of all members made a 4.0 GPA
To achieve these high results, Greeks chapters have created academic plans, implemented and/or revised various programs throughout the year.
National Pan-Hellenic Council President Delayne Coleman shared her council's perspective on academics, saying, "Council events, such as study sessions or academic workshops, develop us into stronger students. It's important to create many opportunities like these for members to achieve academic success."
Coleman also attributed the Greek community's success to the frequent programs Greek Life hosts, including an academic integrity panel, resume and interview workshop, academic banquet for high-achieving scholars, and various study sessions. Greek Life has also partnered with several on-campus organizations, including the Academic Integrity Office, to host events that educate students on best academic practices.
Assistant Director Carissa Kelly explained the importance of these partnerships, "Our Greeks work together to implement award-winning programs and initiatives in both their chapters and councils that prioritize scholastic success. They're determined to dominate in academics, and their hard work shows when we continue to earn the highest GPA on campus."
UA Greek Life consists of four Greek governing councils, seven Greek registered student organizations, and 34 national fraternities and sororities consisting of 7,056 Greek leaders. As a community, the UA Greek community raised more than $750,000 and participated in over 103, service hours for various philanthropies.
For more information on UA Greek Life's fall 2019 grades, download the Greek Life Fall GPA Rankings PDF.