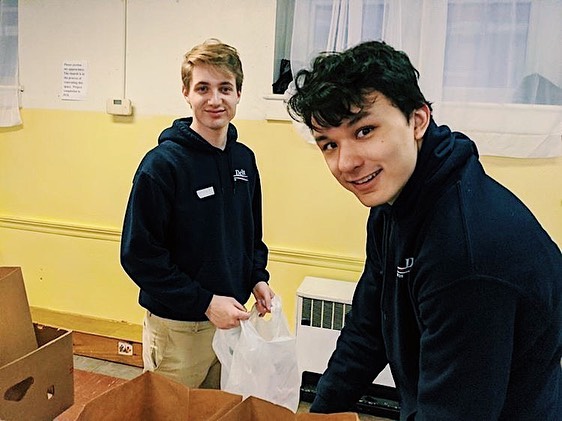 Greek life leaders at The George Washington University are transitioning their philanthropic efforts to virtual fundraising campaigns in light of the COVID-19 pandemic.
Panhellenic Association and Interfraternity Council chapter leaders said they've created competitions to raise donations for charities providing relief during the crisis. Panhel and IFC leaders said the transition to online fundraising has been challenging, and some have needed to cancel philanthropic events, but they've been able to generate donations for their national charities through social media.
Sophomore Reese Geyer, the Tau Kappa Epsilon philanthropy chair, said he is planning online fundraisers using Venmo and his fraternity's fundraising page to collect donations from community members for St. Jude Children's Hospital, which the group has partnered with for more than 30 years. He said chapter members have been communicating daily and making social media graphics like "Venmo boards" to motivate students to participate.
"Most of the time you just walk by the fundraiser and you're like 'Oh, there it is, let me participate,' and this is harder to get people to take a few extra steps to actually donate online," Geyer said.
He said fraternity members launched a social media campaign in collaboration with Panhel earlier this month to raise donations for the Capital Area Food Bank's COVID-19 emergency fund, which distributes resources to people struggling with food insecurity. Geyer said the groups asked for donations to be sent via Venmo and raised $600, hundreds more than their $100 goal.
"That was a new amazing event that I've never done that I'm pretty sure GW Panhel has not done either," Geyer said.
Sophomore Lizzie Irwin, the Sigma Delta Tau president, said the sorority "went full force" with virtual programming, using WebEx and FaceTime to host chapter meetings, movie nights and study hours. She said the sorority canceled its in-person fundraising events like profit share nights with restaurants on-campus, but members are planning online fundraisers to continue their philanthropic efforts through the spring.
Irwin said the sorority is collaborating with fraternity Delta Tau Delta to raise money for We Are Family, a D.C.-based organization that delivers groceries to homebound seniors during the pandemic. She said sorority leaders set up a Crowd Change page April 7 to collect donations for the organization, raising $160 so far.
"Because of everyone's different situations across the country, really across the world, it's just encouraging ways to give back," Irwin said.