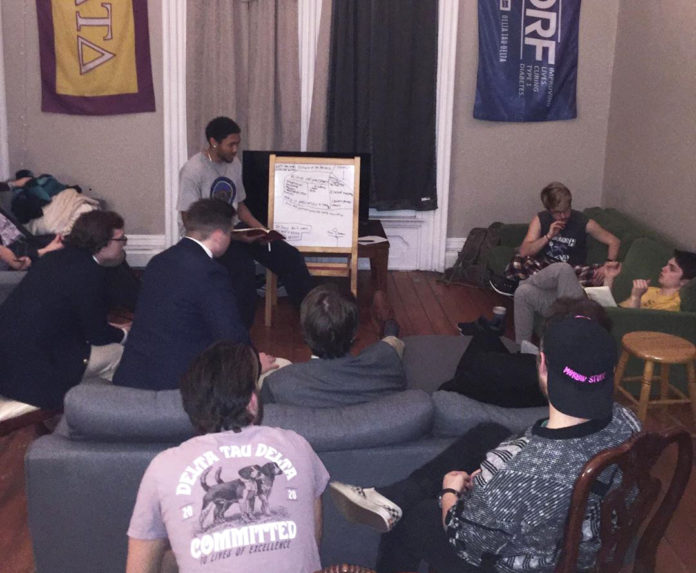 When I joined Delta Tau Delta Kappa Chapter at Hillsdale College, it came with the tired trope of, "You're paying for friends." While there is a financial obligation when you join a fraternity, your money goes far beyond the men with whom you work and live. It goes into social and professional events, philanthropy, better housing, and more. Here are the top eight reasons to join a fraternity.
1. Life-long relationships
While you're not paying for friends, that doesn't mean you don't have deep friendships. It's one thing to be friends with a few guys in your dorm; it's completely different to develop accountability-driven relationships with men who have gone through the same process and rituals as you. It's also different to work with a large group who share the same goals for an organization. The relationships I've developed in my fraternity will go beyond anything I found in dorm life.
2. Professional Development
Fraternities provide the opportunity to understand what it's like to run a company. A fraternity is made up of different boards: administrative and executive. Each board is filled with positions (e.g., academic affairs chairman, director of communications, or president). Each position is assigned a committee made up of other members who then meet weekly to discuss business. The entire organization meets at the end of the week to discuss all relevant business for the upcoming week. Organization, efficiency, and communication skills are necessary in any business environment, and you can develop these skills in a fraternity.
3. Leadership Development
While fraternities are good for professional development, you can also gain excellent leadership experience. For example, I'm the academic affairs chairman for Delta Tau Delta Kappa Chapter and have used this position as an opportunity to mentor younger members as well as hold the fraternity accountable for making good grades. These types of leadership opportunities are available everywhere in a fraternity, from organizing events to making executive decisions about the direction of the organization.
4. Academic Assistance
Speaking of academics, those in Greek life typically have higher GPAsthan the campus average due to specific GPA requirements, accountability, and an environment that values excellence in all areas, including school.
5. Social Opportunities
Fraternities are, first and foremost, social organizations. This means you'll have the opportunity to attend date parties (e.g., a themed costume party), spring formal, and be part of a group of men with connections around campus as well as in the professional world.
6. Alumni relations
Large fraternities have many perks, but one of the best is that you will have access to a massive alumni network. With millions of fraternity members throughout the professional world, you have an instant connection at your fingertips. Alumni are great resources for finding jobs and internships and are often eager to help their undergraduate brothers however they can.
7. Philanthropy
Every fraternity contributes to a specific philanthropy. Delta Tau Delta contributes to Juvenile Diabetes Research Foundation (JDRF), and Sigma Chi raises money for Huntsman Cancer Institute. Through philanthropy events like basketball tournaments or even bake sales, fraternities collect money to contribute to these philanthropies and something greater than themselves.
8. Tradition
Fraternities are full of valuable traditions. Often, the tradition of a fraternity is an integral part of the tradition of a college's campus. Delta Tau Delta Kappa Chapter was the first fraternity at Hillsdale College in 1867 and consisted of the best leaders the College had. It's an honor to go through the same ritual and repeat the same words as those men, and it's always my goal to live up to their impeccable standard of leadership, character, and excellence.