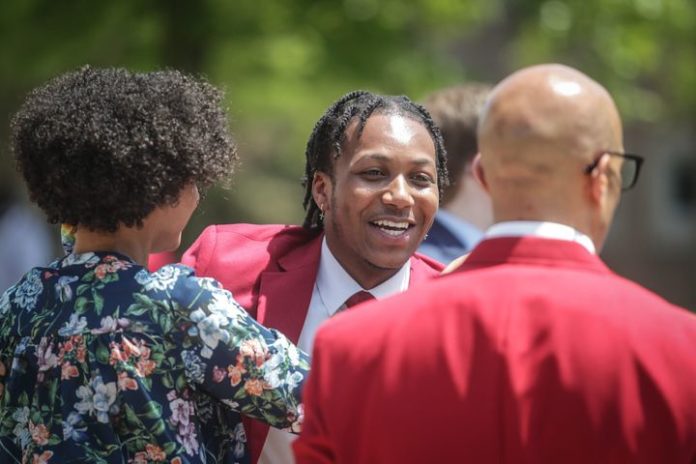 Wright State University broke ground Thursday on a new National Pan-Hellenic Council plaza, which will celebrate the historically Black fraternities and sororities at Wright State.
Dai'Shanae Moore, Wright State NPHC president and member of Sigma Gamma Rho, said when she first came to campus as a freshman, she wanted to see more of a physical representation of the organizations than the murals in the tunnels, which she felt didn't show what the founders of NPHC fought for.
"It was more of a wanting to be visible, but also wanting to show that we do have a type of community here for our minority students who are here, because even though we have a small percentage, it's still something better than nothing," Moore said.
Moore noted the nine sororities and fraternities that make up NPHC were founded during a time when Black men and women were being denied essential privileges and rights. Many of them were fighting for civil rights at the same time they were completing their studies.
Adrian Williams, former Wright State Student Government Association president and member of Kappa Alpha Psi, said the plaza will honor that history.
"The purpose of the plots is to honor the history of each organization and NPHC as a whole and provide a gathering spot for both current members and alumni," Williams said.
The plaza will be in a circle set with gold medallions, Wright State said. It will be outside of University Hall, near the "Turning Points" sculpture.
"But I want you to understand that the positioning of this plaza is intentional," Wright State president Sue Edwards said. "It will be a focal point of Wright State's campus."
Edwards said the plaza will be a point of pride.
Since joining her chapter, Moore said she found out there was a history at Wright State of members pushing for something similar to the plaza, which is finally coming to fruition.
The project is funded through donations. Wright-Patt Credit Union, the Wright State Alumni Association and the Wright State African American Alumni Society donated a total of about $20,500, according to Wright State. The university is still collecting donations for bricks, and people can donate online.
Moore said she was excited to see the plaza, and glad the project was happening while she's still at school. When she graduates next spring, she plans to take her graduation photos at the plaza.
"It's just so nice that it will be here before I graduate, so I can be here to graduate and take my graduation pictures, so I'm really excited," Moore said.