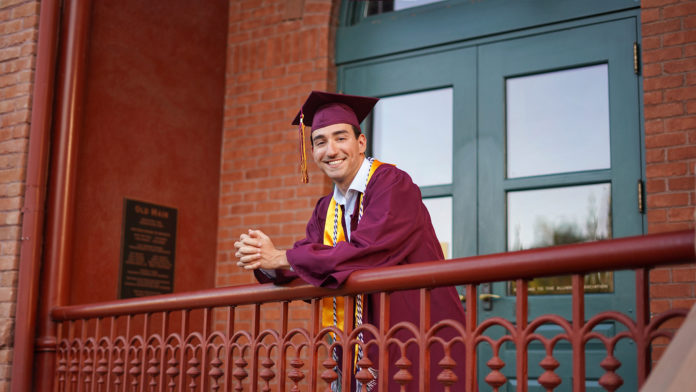 The advice Arizona State University graduate Dominic Frattura would give current Sun Devils is to get involved. The spring 2021 W. P. Carey School of Business and Thunderbird School of Global Management graduate student practices what he preaches: You'd be hard pressed to name an aspect of Sun Devil life that Frattura wasn't involved in, and he relished all the opportunities.
Frattura led campus tours with Devils' Advocates; was a student leader in Sigma Nu, the Greek Leadership Village and in the Interfraternity Council; worked as a fundraiser for the ASU Foundation as well as in the Office of the President as a policy analyst; traveled as he studied abroad in Israel and Australia; and served in Undergraduate Student Government.
Originally from Chicago, Frattura graduated in May with his degree in business and global politics with a certificate in international business from the W. P. Carey School of Business. Of his experiences in college, Frattura said getting involved in philanthropy was a highlight.
"Over the course of the last few years I have partaken in numerous philanthropic events, whether that be community service or generating money for charity. One of the charities that I have been most impacted by is Childhelp," he said. "Childhelp has led the way nationally in child abuse prevention and treatment. I have had the privilege of becoming close with the organization over the last few years, however more importantly, my fraternity has raised hundreds of thousands of dollars for them over the years."
Frattura said his experience in student government was also instrumental in his experience. He represented the W. P. Carey School of Business as a senator and finance chair and was also elected senate president his junior year.
"USG was an awesome way to meet with and learn from different groups of students! Meeting daily with student leaders and student groups to advance certain policies or ideas was a great learning experience," he said. "What I appreciated most was the sheer amount that I was able to learn about the structure, initiatives and programs within the university. This role led me to my current job as a policy analyst for the Office of the President at ASU."
Frattura's Sun Devil spirit made an impression not only on other students but on ASU leadership such as Vice President of Student Services Joanne Vogel.
"When I arrived at ASU, Dom was one of the first students to welcome me into the community. We have stayed connected over the years during his time in USG, summer internships and his leadership roles with IFC and his fraternity," she said. "Dom is an outgoing, engaged and passionate leader. I look forward to seeing his achievements at Thunderbird next year and well into the future."
As he wrapped up his time as an undergraduate, Frattura reflected on his time at ASU and shared his advice for other Sun Devils.
Q: What was your "aha" moment when you realized you wanted to study the field you majored in?
A: Ever since I began to understand the physical, social and political world around me I realized that the world is heading in an increasingly global direction. Globalization has had, and will have, a profound effect on how humans live, work and interact within the physical world. This is why I ultimately chose the business global politics major at the W. P. Carey School of Business.
Through my studies at ASU I've come to understand that cutting-edge innovations that will pioneer the fourth industrial revolution will require ethical leaders and management in the future. The demand is high for global leaders, and I applaud ASU for not just all of its amazing global initiatives but additionally the global curricular programming opportunities within each college.
Q: What's something you learned while at ASU — in the classroom or otherwise — that surprised you or changed your perspective?
A: The classes that I was able to take through the School of Civic and Economic Thought and Leadership brought me around the world and provided the best education I received as an undergraduate. I was fortunate to travel to India and Israel to focus on leadership, politics and service.
In addition, their courses at ASU are manageable for any major and consist of practical concepts and knowledge that you will use throughout your career. I formed a great relationship with the school's director, Dr. Paul Carrese, while studying with him in Israel and India. This is one of the relationships made in college that I am most grateful for. Dr. Carrese was a personal mentor of mine and someone who assisted me in my role as senate president. Dr. Carrese and SCETL also host speaker series at ASU each year, which bring in the top political scientists, academics and strategists of our time. These events are open to all students, and this is actually how I first got involved with SCETL.
Q: Why did you choose ASU?
A: I chose ASU because of their noble mission and charter. In my opinion, Dr. Crow's vision of a public research university is revolutionary, inspirational and required as we compete and lead in today's global knowledge economy. Designing and implementing the New American University is an institutional goal at ASU that I've had the pleasure of contributing to the progression of as an undergraduate. Access to education and redefining the role and purpose of universities naturally became an interest of mine as I worked with ASU leadership and saw the potential in the university that I belonged to.
Q: Which professor taught you the most important lesson while at ASU?
A: My professors at the Policy Design Studio, retired ambassadors Roderick Moore and Edward O'Donnell, were fundamental to my understanding of international relations. The Policy Design Studio Program is a program for select students who are interested in foreign policy and diplomacy. I took their course for a full year and was able to research and propose policy for the U.S. diplomatic missions in Kabul, Afghanistan, as well as Moscow, Russia.
The Policy Design Studio is offered to any student from any background and is based out of Washington, D.C. Students simultaneously participate in an internship program while enrolled in the course. This program (originally managed by the McCain Institute) introduced us weekly to foreign policy officials from the State Department, Congress, the National Security Council, White House, USAID, etc.
Q: What's the best piece of advice you'd give to those still in school?
A: Get involved! Your time at ASU will fly by! There are so many opportunities at ASU to get involved and grow as a leader.
As a sophomore I created a club on campus called the Leadership Forum at ASU, which had great success over the last two years. We bring in speakers from around the country to discuss leadership and their personal success stories. Most recently we hosted Arizona Gov. Doug Ducey, as well as the CEO of Greater Phoenix Leadership Neil Giuliano. I met Neil very early on in my ASU journey through my fraternity, Sigma Nu. Neil also served as mayor of Tempe as is well known in the Arizona business community.
Q: What was your favorite spot on campus, whether for studying, meeting friends or just thinking about life?
A: The Student Pavilion is where I spent a lot of time studying, and it's also where my office was located when I was an executive at the Undergraduate Student Government. The Council of Coalitions is also located in this building, so it was always great to meet new people and share new experiences. The second floor of the Student Pavilion also has a great study balcony outdoors.
The Greek Leadership Village is an amazing shared community on campus. I lived in the Sigma Nu house and served as house manager, so I have a special affinity for the house there, the village generally, and all the staff at the Greek Leadership Community Center. Serving on the Interfraternity Council this year also allowed me to develop long-lasting relationships with the other fraternities on campus. This has led to a great social experience for me.
Q: What are your plans after graduation?
A: ASU Offers 4+1 accelerated master's degree programs, so I have already begun to take classes at the Thunderbird School of Global Management during my fourth year at the university. After graduation I will continue the classes I am taking there and move from the Tempe campus to the Downtown (Phoenix) campus. I will also continue my job as a policy analyst for the Office of the President at ASU, where I research areas of public policy relating to issues in higher education, the economy, innovation and technology.
Q: If someone gave you $40 million to solve one problem on our planet, what would you tackle?
A: Restoring integrity to our political system (specifically political parties) as well as within our media. America is in need of unity, and I would find the best way possible to help heal our divisions.