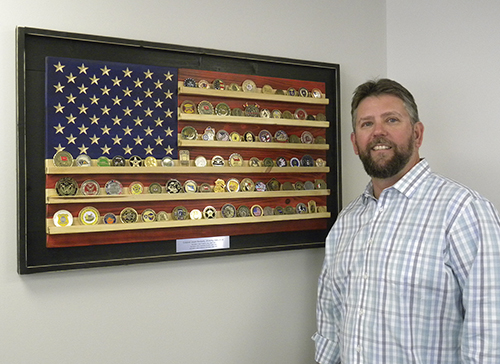 McDONALD, Ohio — Jason Reckard can be proud of a 33-year career in the Army National Guard, where he began as an ROTC student and retired as a colonel. Reckard is a Phi Kappa Tau brother from Kent State, Class of 1987.
With decades of memories, Reckard still remembers how he got started.
"I grew up in McDonald and graduated from McDonald High School in 1985," Reckard said. "I was looking at attending Kent State University and was wondering how I was going to pay for it."
He checked into the Army National Guard and at age 17, rode with his father to the National Guard Armory in Austintown to talk with recruiters.
"I was told the Guard needed engineers, maintenance crew and MPs," Reckard said. "The MPs were getting a $500 signing bonus, so I said sign me up."
He immediately headed for Fort McClellan, Kentucky, for his basic training. Afterward, he returned home and headed to KSU, where he pursued a degree in business.
At Kent, Reckard joined the Phi Kappa Tau fraternity, where he met a fellow fraternity member, Dale Holland. (Holland currently serves as National Vice President at Phi Kappa Tau.) His new friend told him he would benefit from joining the ROTC and becoming an officer. He took the advice and in the summer of 1987, he attended Airborne School at Fort Benning, Georgia. In 1988, Reckard was commissioned as a second lieutenant. In 1990, he graduated from Kent State and remained in the Guard.
He married and began a family prior to his first deployment. In 1996, he had risen to the rank of captain with the 838th Army National Guard unit in Austintown and served as commander. His unit was deployed under Operation Joint Endeavor to Stuttgart, Germany.
While in Germany, Reckard gave a soldier under his command a break from guarding the gate at his unit's compound. It was Christmas Eve and while guarding the gate, four-star Gen. George Joulwan came through. He was impressed with Reckard giving a soldier a break and filling in, and he gave him a special military coin for doing a good job. It is the prize of a massive collection of military coins Reckard earned over his 33 years.
Reckard returned home in 1997 and before his next deployment, he established himself as a State Farm insurance agent in Canfield in 1998. While he worked in the insurance field, he remained an officer with the Guard.
In 2004, Reckard again was called into service, this time being deployed to Kosovo under Operation Joint Guardian. It was part of a NATO peacekeeping force that joined military units from around the world. In this deployment, Reckard was at the rank of major with the 38th Infantry Brigade Combat Team. The deployment ended in 2005, and he returned home.
His final deployment came three years later. He was called up to serve as lieutenant colonel and provost marshal with the 583rd Law and Order Detachment taking part in Operation Iraqi Freedom in Baghdad. By now, Reckard had a family of five and a bustling insurance office. He knew as a Guardsman, he had to leave the business behind and focus on the task at hand, but that wasn't a big problem for him.
"When I was deployed, I had to depend and rely on my wife, family and staff to keep things going," he said. "And they didn't let me down."
While in Iraq, he got opportunities to talk with his family through video conferencing. He said that is how he saw his youngest son, Jack, take his first steps.
While in Baghdad, Reckard got another surprise when his old fraternity brother Dale Holland contacted him and told him he was flying into Baghdad on Air Force One. Holland had become a navigator on the president's plane.
"It was when George Bush was touring Baghdad," Reckard said. "Dale got me onto the president's plane for a quick tour."
One final notable event in Baghdad was earning the Bronze Star, which was signed by then-four star Gen. Lloyd Austin, who now is serving as the 28th secretary of Defense under President Joe Biden. He took office on Jan. 22 as the first black man to serve in that position.
In his final four years of service, Reckard moved over to the Army Reserves, where he served as an emergency preparedness liaison officer in the West Virginia region.
"I was the link between the state and the government," he said.
One other task he got to take part in before leaving the service was to work several weeks at the presidential inauguration for Donald Trump in January 2017.
After his 33 years, Reckard and his family traveled to Philadelphia, where he officially retired in a private ceremony.
He returned home and used his veteran benefits to grow his business, buying the corner lot at Lisbon Road and the Village Green. He moved his agency from North Broad Street in Canfield to the new address at 5 Lisbon St., where he continues to grow his client base.
Reckard is a member of the Mineral Ridge VFW Post 4192. He still keeps in touch with his fellow veterans, but spends a lot of time now with family. The focus now is on Harlow, a granddaughter born in February.
"The new role as grandpap is a welcomed title," Reckard said. "Father and grandpap is much more important than captain or colonel."
Jason Reckard
AGE: 54
RESIDENCE: McDonald
SERVICE BRANCH: Army National Guard, Army Reserves
MILITARY HONORS: Bronze Star, Legion of Merit
OCCUPATION: Insurance agent
FAMILY: Wife, Kerry; daughters, Abigail, 30, and Emily, 20; sons, Jared, 28, Jacob, 23, and Jack, 14, and one granddaughter Harlow, who was born in February