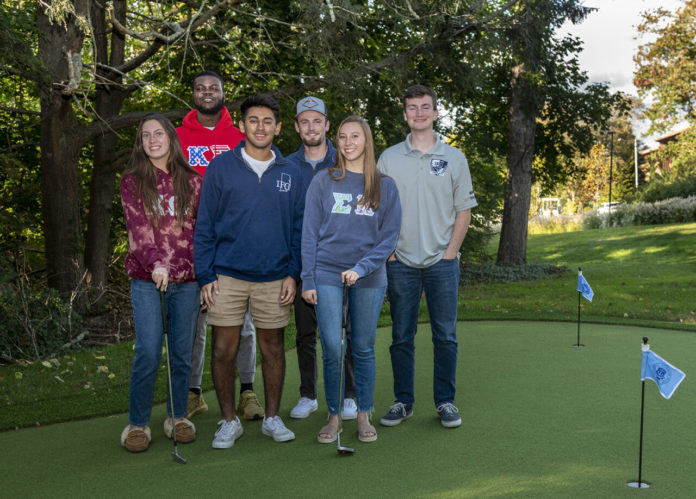 KINGSTON, R.I. — Nov. 4, 2021 — The University of Rhode Island has a wide range of excellent indoor and outdoor recreation and exercise facilities, including the Bike Path Spur, Fascitelli Fitness and Wellness Center, Mackal Field House and outdoor basketball courts.
Now thanks to the Greek community and a URI and fraternity alumnus, it has an outdoor putting green behind the Christopher House on Lower College Road. The project was completed in the spring.
As the COVID-19 pandemic lingered and students felt more isolated, URI's fraternity and sorority leaders saw the need for more outdoor recreational and programming space on campus. They thought a putting green would be a safe and fun way for students to interact, reduce stress and practice their putting strokes.
"We're very excited about getting the putting green at the Christopher House," said URI Panhellenic Association President Maren Drake. "We had the idea at the beginning of the 2020-2021 school year and were hoping to have the project completed in time for Greek Week to add it as an in-person event, but we were delayed due to weather, COVID-19, etc. We're excited to open it up to the campus community for recreational use, and also use it for programming this fall. I think it'll be a great spot for students to decompress, or even just to kill time between classes."
"I think the backyard putting green is a great new addition to the Christopher House," said Mitchell Asante, president of the Interfraternity Council. "It allows us to sharpen our golf skills and provides entertainment for general community members as well. A cool idea to utilize the space is having my bi-weekly meetings with chapter presidents on the grounds. We will also be able to provide the space to our alumni during alumni-related events."
The Greek leaders found the perfect person for the job — Radek Molenda — founder, owner and president of Turf Master Inc. in Johnston who is a Rhody alumnus and member of Tau Epsilon Phi.
"We are very excited to see this come to fruition after working with student leaders on this vision," said Alison Burke, assistant director of Greek Affairs at URI. "The goal of the project stemmed from the pandemic and the need for more outdoor programming opportunities to keep Greek Life students active. We are looking forward to adding this space for formal and informal uses for all students on campus. We envision that it will be used for Philanthropy Week, Greek Week, chapter philanthropy events, and general recreation and wellness use throughout the year."
"As an alumnus of URI," Molenda said, "I am honored and proud to be able to do something for the school that allows me to utilize many of the skills and knowledge gained while earning my degree and operating my business for 30 years."