The Xi-Omega chapter of Tau Kappa Epsilon at Virginia Tech has established a strong history of fundraising achievement and has become the top fundraising chapter in national partnership history with St. Jude Children's Research Hospital. 

St. Jude is a pediatric treatment and research facility located in Memphis, Tennessee. It was founded by TKE Alumni, Danny Thomas. The incredible thing about this hospital is that it was built to treat any child, regardless of any cancer, how progressive their cancer might be, their race, religion, where they live, or their family's financial status. Danny Thomas' vision was to create a hospital that accepted all children completely free of cost, which is why it is so important that they have donors to support the hospital.

Two years ago it was an incredible feat for the Xi-Omega chapter to raise over $160,000 in the middle of the COVID-19 pandemic, which showcased the chapter's commitment to the cause, regardless of the circumstance. But heading into spring 2021, the chapter feared the long-lasting effects of the pandemic would slow their fundraising even more since their message to "not give up on these kids because cancer won't stop for a virus" was starting to get worn out from the year before. Unable to hold many of their in-person events, they faced another challenging year where the majority of their fundraising was held online. But in the end, they were able to raise $250,000, breaking their own records from years prior.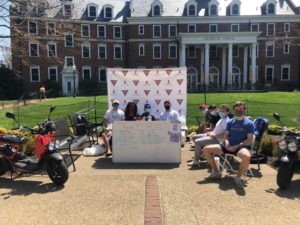 In spring 2021, TKE Week was held from April 1st through April 6th, and during the first two days more than $100,000 was raised. They held a No More Cancer Rally (NMCR) hosted by their St. Jude representative and advisor Sarah Whitten. During the NMCR members worked hard to raise money by posting on social media, calling relatives, making Facebook fundraisers, emailing all of their contacts and doing everything they could to jumpstart the fundraising effort. They then built from momentum throughout the week by continuing their social media presence and incentivizing others on the Virginia Tech campus to raise money and to reach out to their contacts as well. 

The noticeable difference between 2020 and 2021's numbers was the campus-wide participation they received from organizations at Virginia Tech. The chapter alone raised a little more than half of the total of $250,000, but reaching that total would not have been possible without the support from others at Virginia Tech. In years prior they would typically have five to 10 other organizations that participated in TKE Week; however, last spring more than 20 different sororities, fraternities and organizations, along with support from key local businesses in Blacksburg – including Jersey Mike's, Your Pie Pizza and Chipotle – rallied behind the cause ultimately helping the chapter raise a quarter of a million dollars.
Mark Ebner, one of the chapter's philanthropy chairs, commented, "It was incredible to see so many people working together and it took a lot of delegation among us to keep everyone informed on the events each day. In total we had over 1,000 people from Virginia Tech make a fundraising page through our portal, and an insurmountable amount of people who donated."
As Danny Thomas once said "I'd rather have a million people give me a dollar than one give me a million. That way you've gotten a million more people involved."
The collaboration of all who participated shows how the VT community as a whole is making strides to truly change the world.
Chapter Fundraising Stats
In the past seven years, the chapter has raised over $1 million dollars as a chapter for St. Jude.
2015: $40,000
2016: $62,000
2017: $152,000
2018: $200,000
2019: $157,000
2020: $163,000
2021: $255,000