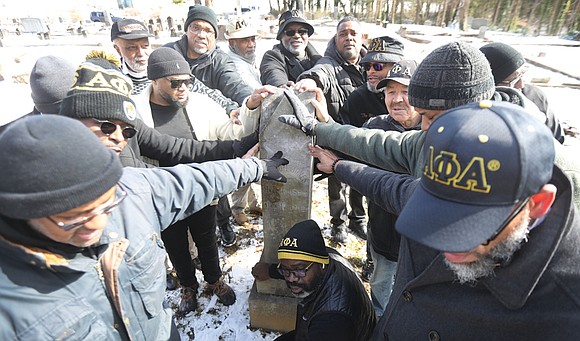 Beginning next month, members of Alpha Phi Alpha Fraternity will keep up the family gravesite of one of the fraternity's founders in historic Evergreen Cemetery in Richmond's East End.
The fraternity also wants to install a historical marker at the site.
Tyler D. Parker, a member of Xi Delta Lambda Chapter of Alpha Phi Alpha Fraternity, the Henrico graduate chapter, is manager of the volunteer project at Evergreen Cemetery, where the parents and brother of national founder Eugene Kinckle Jones are buried.
Mr. Jones, who graduated from Virginia Union University in 1905, attended graduate school at Cornell University, where he was one of the "Seven Jewels," as the founders are known, of the nation's first collegiate Black Greek organization on Dec. 4, 1906.
He also helped organize the fraternity's first three chapters after Cornell, including Gamma Chapter at VUU in 1907.
"We knew the founder, Eugene Kinckle Jones, was from Richmond, but we didn't know his parents were buried here," Mr. Parker told the Free Press. "Once we found the site was here, the drive (among fraternity members) to preserve the site just grew … because of the significance of this family to our fraternity and their historical significance in Richmond."