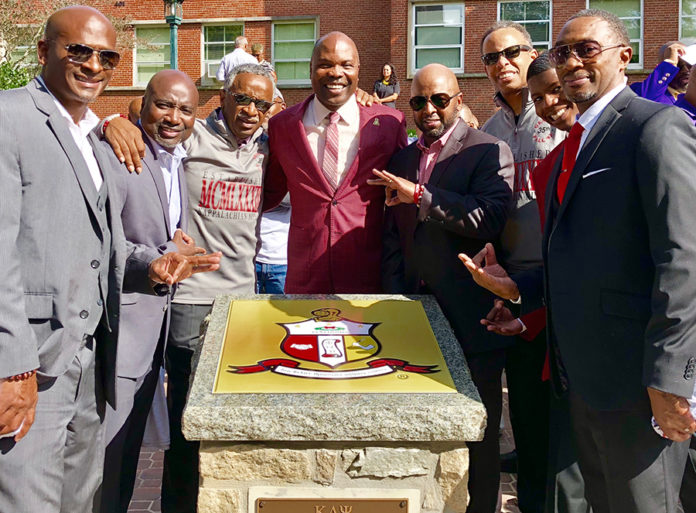 BOONE, N.C. — Since the first National Pan-Hellenic Council (NPHC) organization was chartered at Appalachian State University in 1983, members of NPHC fraternities and sororities have built a legacy of leadership and service — both on and off campus.
NPHC is comprised of historically Black Greek-letter organizations — often collectively called the Divine Nine. Chapters of seven of these sororities and fraternities are currently represented at App State.
Jamie Parson, App State's interim chief diversity officer, said members of NPHC organizations make lifelong commitments to serving the community through the vision of their fraternity or sorority.
"At App State, we are extremely fortunate to have so many alumni who have graduated and come back to campus as employees, partners, donors and mentors to other students," she said.
James "J.T." Tolliver '96, a Mountaineer alumnus and member of the Pi Nu Chapter of Alpha Phi Alpha Fraternity Inc., has continued his involvement with his fraternity and App State to provide others with the learning opportunities that were "significantly important" in his personal development, he said.
Tolliver has worked in collaboration with other members of NPHC organizations to raise funds for App State alumni events, scholarships and the university's NPHC Plots and Garden.
"There is a member from the NPHC on nearly every board of the university," said Tolliver, who currently serves as secretary on the board of directors for the Appalachian State University Foundation Inc. "NPHC has had a major impact on the growth and sustainability of App State."
In the history of the United States, NPHC members have made their marks as innovators, civic leaders, business executives, athletes and entertainers, Tolliver added.
App State junior Lauren Bryant, the NPHC delegate and secretary of the Omicron Kappa Chapter of Alpha Kappa Alpha Sorority Inc. and the vice president of programming on the NPHC Executive Board, said her sorority has a legacy of leaders who "shattered glass ceilings and were committed to causes greater than themselves."
Among her sorority's national members are NASA astronaut Mae Jemison, the late NASA mathematician Katherine Johnson, the late poet and civil rights activist Maya Angelou, and U.S. Vice President Kamala Harris.
Alumni spotlighted include:
Dr. Kimberly Green, Alpha Kappa Alpha Sorority Inc.
Avery Hall, Phi Beta Sigma Fraternity Inc.
Rev. Monica Leak, Zeta Phi Beta Sorority Inc.
Dr. Kondra Rattley, Delta Sigma Theta Sorority Inc.
James Reaves, Kappa Alpha Psi Fraternity Inc.
James Tolliver, Alpha Phi Alpha Fraternity Inc.
Donnell Williams, Omega Psi Phi Fraternity Inc.