DSIG welcomed volunteers and dogs into their chapter house to fundraise for their organization
At a decorated table, Delta Sigma Phi members cheerfully welcomed students and supporters as they arrived at 5560 Hardy Ave. Each member of the fraternity wore a light blue "Dog Days" shirt designed by their chairperson of philanthropy, Peyton Kim.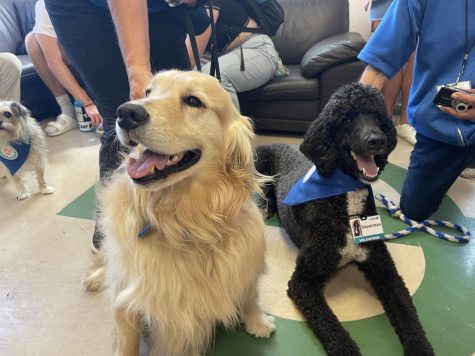 On Sept. 23, Delta Sigma Phi hosted their first philanthropic fundraising event of the year called "Delta Sig Dog Days". The fraternity's efforts to raise money were accompanied by volunteers from the San Diego Humane Society, who brought dogs to potentially be adopted at the event.
"We wanted to host an event for their animals to bring awareness to their adoption process and potentially have some of these people adopt the dogs here today," Kim said.
There was a large turnout of people at the event who were excited to be there to see the dogs. Some of the dogs present at the event included a golden retriever named Sasha, a large black poodle named Superman and a smaller breed of dog named Diego.
"I love dogs and I know a couple of guys from D-Sig," said Roni Feldman, a freshman at San Diego State. "I saw it on social media and I just thought it'd be a really fun way to spend my Friday afternoon."