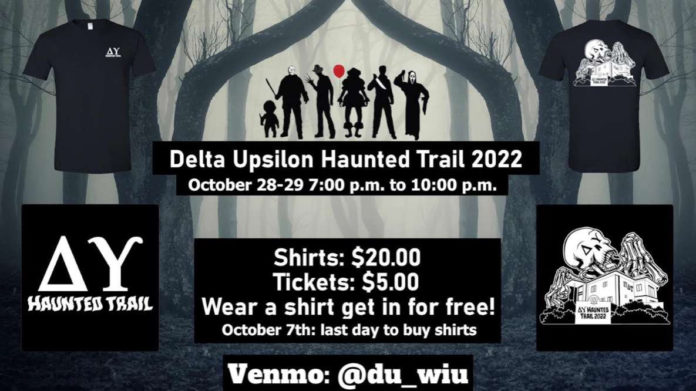 MACOMB, IL – The Western Illinois University chapter of Delta Upsilon Fraternity, will host its 8th annual Haunted Trail fundraiser from 7-9 p.m. Friday-Saturday, Oct. 28-29.

The event will be held on the fraternity house property at 620 W. Elting St., in Macomb, and the entrance to the trail begins at the front door of the house.

Tickets are $5 in advance and $7 at the door, and can be purchased through the chapter's Venmo account at DU-WIU, or from a member of the chapter. Chapter members will be selling tickets at select times in the University Union Concourse, and in the community.

All proceeds and donations from the event benefit the chapter's philanthropy, the Delta Upsilon International Fraternity Global Service Initiative (GSI), which is a program that is also the fraternity's international philanthropy and an international service project.

This is one of the fraternity's annual philanthropy events, with proceeds going toward the Global Service Initiative, the fraternity's international philanthropy and service project.

The money raised will be used to send fraternity members to Jamaica to build houses, schools and churches for those in need. The annual trip lasts seven days.

For more information about the DU Haunted Trail, or sponsorship opportunities, contact Vice President of External Relations Travis Swope at te-swope@wiu.edu, or visit facebook.com/profile.php?id=100064573149984.
Posted By: University Communications (U-Communications@wiu.edu)
Office of University Communications & Marketing