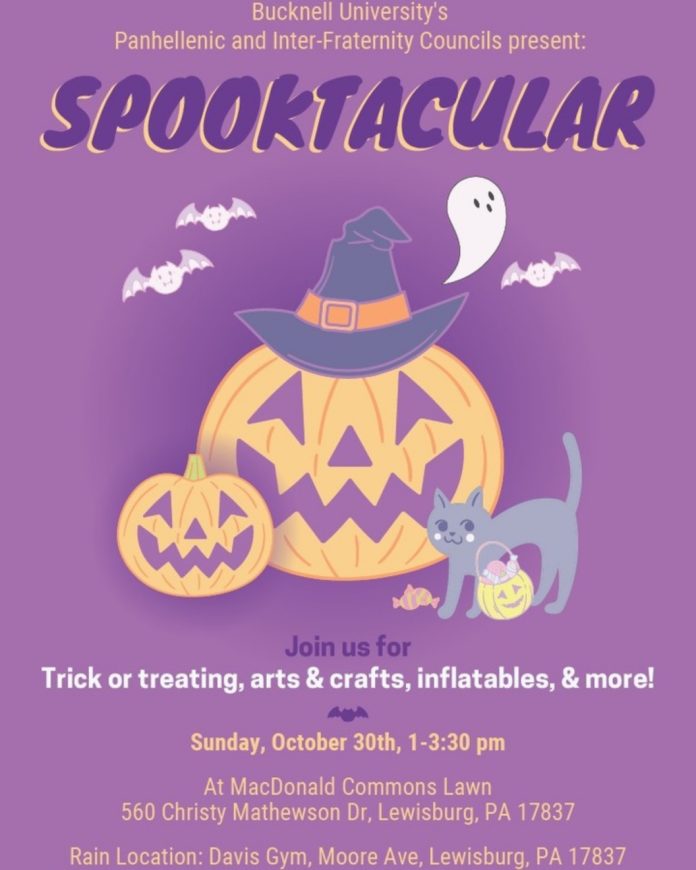 The annual Bucknell Spooktacular event is hosted each year by the Office of Fraternity and Sorority Affairs in collaboration with Panhellenic and Inter-Fraternity Councils, and the remainder of the Greek Life community.
Providing local children with an opportunity for safe trick or treating, preparation and planning for Spooktacular has been ongoing since the beginning of the year.
Each semester the Greek community comes together for at least one large service event like Spooktacular. In the spring they host their annual Greek Week with various activities giving back to the community. These events require participation from every active chapter to fulfill the service pillar of their organizations.
With about 50 percent of the eligible Bucknell population participating in Greek Life, their existence is very well known amongst the town and University. Their governing documents and standards stress the importance of positive service contributions making events like these an important aspect of their presence in the community.
This year's Spooktacular will feature various trick-or-treating tables decorated and operated by different on-campus fraternity and sorority chapters. With over 150 Greek Life volunteers the event will also have inflatables, arts and crafts tables, temporary tattoos, yard games and more.
Each chapter that will be present at Spooktacular had the opportunity to choose their table theme. The Chi Phi fraternity will display their superheroes theme while Alpha Delta Pi sorority will follow a princess theme. Other table themes include Halloweentown, candy corn, mummies, cowgirls, pirates and skeletons.
Thus far throughout the month of October there have been ongoing sales of Spooktacular T-Shirts designed by VP of Education, Advocacy, and Activism on the Panhellenic Council Noelia Vargas. Shirts have been used to build excitement around the event within the community and proceeds from sales will be donated to the Lewisburg Children's Museum.
The VPs of Programming work closely with Nellie Forker, Assistant Director of Fraternity and Sorority Affairs, Olivia Libby, Director of Fraternity and Sorority Affairs, and Julia Leighow, Associate Director of Fraternity and Sorority Affairs, to coordinate and prepare for the event. The IFC VP of Programming Will Scott '24 and Panhel VP of Programming Jackie Silvers '23 both took time to speak on their intentions for Spooktacular.
"The goal of spooktacular is to give back to the families that allow us to do so much here," Scott said.