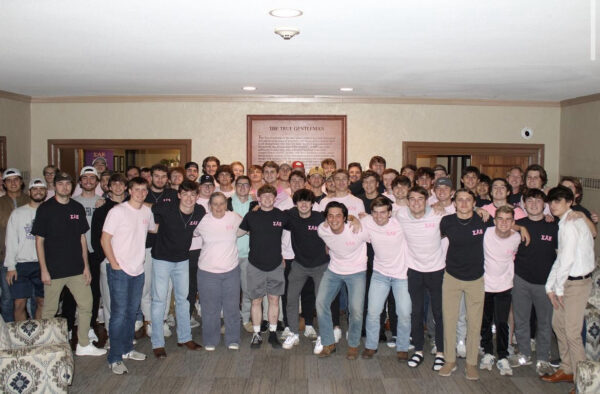 Greek life organizations at Kansas State are dedicated to their philanthropies and host events for different national and local causes. This brings different sororities, fraternities and members of the student body together to have some fun and raise money. Here are a couple recent events hosted by K-State greek life.
Sigma Kappa Cookies and Donuts with Pike
Sigma Kappa and Pi Kappa Alpha fraternity sold cookies and donuts to raise money for Children's Mercy. The drive-thru event took place on Nov. 14. at the Pike house. Students purchased tickets for $5, and the event raised a total of $3,000.
"It didn't take a lot of preparation other than selling the tickets, posting about it, and getting the cookies and donuts," Shea Larson, vice president of philanthropic services for Sigma Kappa, said. "We had more of a turnout than I expected." 
Sigma Alpha Epsilon Shrimp Boil
Sigma Alpha Epsilon hosted their annual Shrimp Boil on Nov. 8. This year, the proceeds from the event were donated to SAE's house mom, who was diagnosed with breast cancer two weeks prior. Members of the house cooked shrimp and vegetables and served it to students who purchased a $5 ticket. SAE raised $3,500, and their house mom used the proceeds to cover many of her medical bills. 
"Greek life sometimes doesn't get the best reputation," Landyn Luttrell, philanthropy chair of Sigma Alpha Epsilon, said. "This really shows the public that we have a heart for helping people. … We have a reason to be here, to help with something bigger than ourselves."
Alpha Xi Delta and Delta Upsilon Pancake Fest
Delta Upsilon joined Alpha Xi Delta on Nov. 3. for their annual Pancake Fest. Tickets were sold for $5, and the event took place at the DU house. Patrons were offered a variety of breakfast foods and could participate in karaoke. The proceeds for the event were donated to the Families in Transition (FIT) Closet, which is associated with Alpha Xi's philanthropy: The Kindly Hearts Initiative. The FIT Closet serves children of the Manhattan-Ogden school district by offering free supplies such as clothing, school supplies and hygiene products.
"A lot of girls volunteer at the FIT Closet weekly," Graysen Yahne, vice president of philanthropy for AIpha Xi, said. "I love being able to see the direct impact our philanthropy has on people, and being local is super cool."