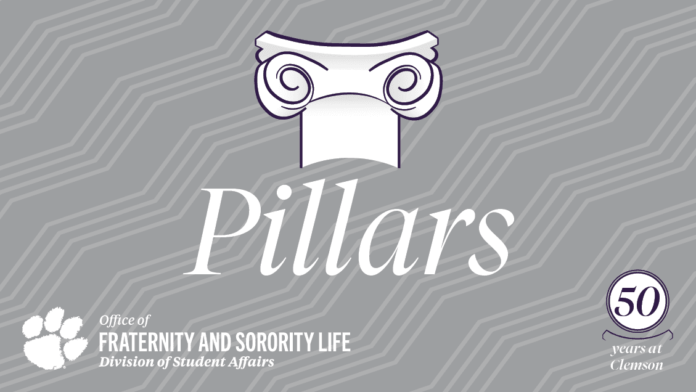 Clemson University is celebrating 50 years of affiliation with national fraternities and sororities in 2023. The celebration was originally marked for 2020, but was delayed to the global pandemic.
"This is a big milestone at Clemson," said Gary Wiser, assistant dean of students and director of Fraternity and Sorority Life. "Membership in our fraternities and sororities leads to lifetime relationships. (The 50th anniversary) is a great way to celebrate our alumni and continue to build those connections."
Nine chapters of the Interfraternity Council (IFC) and four from the College Panhellenic Association (CPA) began their campus charters in 1970. Fraternity and Sorority Life expanded its focus to a broader community of students through the National Pan-Hellenic Council (NPHC), chartered in 1998, and the Multicultural Greek Council (MGC), which was founded in 2015. The first NPHC organization on record at Clemson was the Chi Zeta chapter of Omega Psi Phi in 1974. The first MGC organizations established on Clemson's campus were Sigma Iota Alpha and Lambda Theta Phi in 2015.
As part of the 50th anniversary celebration, the FSL Advisory Board is planning a "Pillars of the Community" Gala on Saturday, April 22. Selected fraternity and sorority alumni from the IFC, CPA and NPHC will be honored for their impact on the FSL community and beyond. Tickets for the event can be purchased online.
"Pillars of the Community will be an annual event each Spring and will recognize alumni for their contributions," Wiser said. "We want to celebrate the contributions they are making to Clemson, to their industry and to the service of students and their organizations."
Membership in fraternities and sororities has grown to record numbers in recent years, including more than 6,200 undergraduate students in Fall 2022. FSL membership has proven to benefit Clemson students across a number of different avenues.
Academically, Clemson's FSL students recorded a cumulative 3.293 grade point average in Spring 2022, while 82 percent of all members exceeding a 3.0 GPA. Additionally, 97.7 percent of first-year FSL members were retained, more than five percentage points higher than the overall Clemson rate. FSL students also engaged in more than 103,000 total hours of community service and raised in excess of $1 million toward chapter philanthropies in 2021-22.