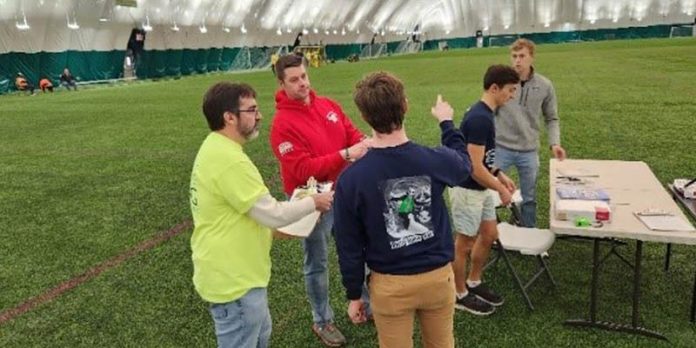 It's a classic activity everyone learns during their childhood. Fold a piece of paper into an airplane and send it soaring into the sky with a flick of the wrist.
Boeing engineers Dillon Ruble and Garrett Jensen [both members of Delta Sigma Phi] grew up folding paper airplanes, but never thought they would one day break world records.
A prototype paper airplane.
As second- and third-generation Boeing employees, Jensen and Ruble vividly remember attending company Family Day events as children.
"We would fold paper airplanes back then as a fun childhood activity," Ruble said. "Origami, or the art of folding paper, became a long-term passion."
That passion ignited a dream, one that would become record-breaking reality for the duo.
"It was hard to believe," Ruble said. "It was one of those moments: Is this real?"
Ruble and Jensen, along with the support of Nathan Erickson, made history on Dec. 2, 2022, in Crown Point, Indiana, for the farthest flight by a paper aircraft.
"We hope this record stands for quite a while — 290 feet (88 meters) is unreal," Jensen said. "That's 14 to 15 feet (4.2 to 4.6 meters) over the farthest throw we ever did. It took a lot of planning and a lot of skill to beat the previous record."
Ruble and Jensen are from St. Louis and studied Aerospace and Mechanical Engineering at Missouri S&T in Rolla. Today, they are engineers for Boeing. Their design was inspired by hypersonic aerospace vehicles and they practiced for four months before making their attempt.