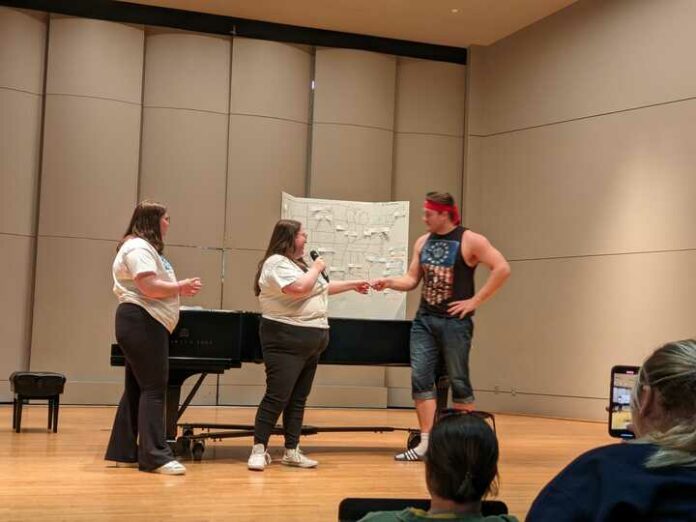 Last Saturday, Alpha Delta Pi held their spring philanthropy event, ADPi Kinda Guy, to raise funds for Ronald McDonald House of Charities and select their ADPi Kinda Guy, the title bestowed upon their chapter sweetheart.
​Fraternity members from six fraternities and a representative from the track and field team participated in a talent show, but Sigma Phi Epsilon junior Richard Lock took home the title of ADPi Kinda Guy.
​"I am honored and thrilled that the sisters of Alpha Delta Pi voted for me to become their ADPi Kinda Guy," Lock said. "I am excited to gain bigger and better friendships."
​Lock won the competition by performing an old show choir routine to Michael Jackson's hit "Beat It" and answering questions about why he deserved to win.
​"A lot of people at Drake know me for being able to sing, and I realized a lot of the other contestants would be doing the same," Lock said. "I was in the show choir for seven years, and there [was] one song I remember almost in its entirety."
​Lock rolled in on his trusty scooter and performed the routine to the enjoyment of the audience. Other talents included singing by Reece Dickerson of Sigma Alpha Epsilon, Will Franck of Phi Gamma Delta and Phi Theta of Phi Delta Theta. Sigma Chi Matthew Forck played piano, and British track and field athlete Adam Phillips named all 50 of the United States.
First-year Alpha Delta Pi coach Kennedy Freeman said the talent round was her favorite round to coach and watch.
"It's really enjoyable to see what talents the contestants have prepared," Freeman said.
Alpha Delta Pi Director of Philanthropy Theresa Sheridan said the interview section of the contest is also a highlight.
"I think [the interview section] allows the contestants to really show their personality, and we also get to know them on a little bit more personal level," Sheridan said. "We get to see a side of these contestants that we might not normally see."
While Lock took home the top prize, Phillips was awarded the Dashing Diamond award by the judges, and Forck was crowned the Lion King by the audience.
Freeman said the opportunity to coach a fraternity member was a great way to get more involved.