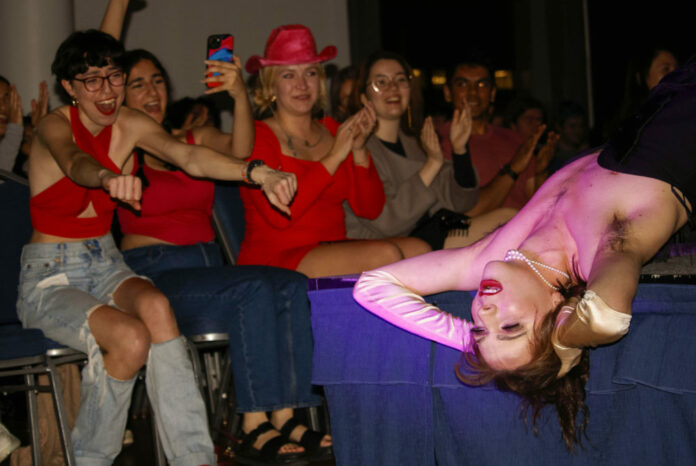 Editor's note: This post contains references to suicide. If you or someone you know has experienced suicidal ideation, call the 988 Suicide and Crisis Lifeline or reach the Student Health Center at 202-994-5300 and ask to speak to a counselor.
The members of Delta Lambda Phi took to the spotlit runway in the University Student Center's Grand Ballroom Saturday night in their fourth annual drag show, honoring their late brother and transgender rights advocate, Henry Berg-Brousseau.
The queens strutted out in corsets, glamorous makeup and heels higher than the heavens, lip syncing and dancing to songs from the likes of Britney Spears and Amy Winehouse to raise money for the Trevor Project – a nonprofit focused on suicide prevention among LGBTQ+ youth. The Henry Berg-Brousseau Memorial Drag Show celebrated the legacy of Berg-Brousseau, an alumnus who died of suicide in December following a long struggle with mental illness and "difficulty finding acceptance," according to a release his mother issued after his death.
Graduate student Jeffrey Fralick, the philanthropy chair for DLP and the executive producer for this year's show, said the fraternity sent proceeds from the event to the Trevor Project. Fralick said the nonprofit was "near and dear" to Berg-Brousseau, who was the deputy press secretary for politics for the Human Rights Campaign, the nation's largest LGBTQ+ civil rights organization, and his family chose the Trevor Project for donations in his memory following his death. Fralick said Berg-Brousseau, one of the founders of the rechartering of DLP's Alpha chapter at GW, performed at the inaugural show in 2018 as his drag persona, Anita Richman.
"Henry had participated originally as a performer, and now, five years later, we're now honoring him with this iteration of the drag show," Fralick said. "So it's a full circle moment."