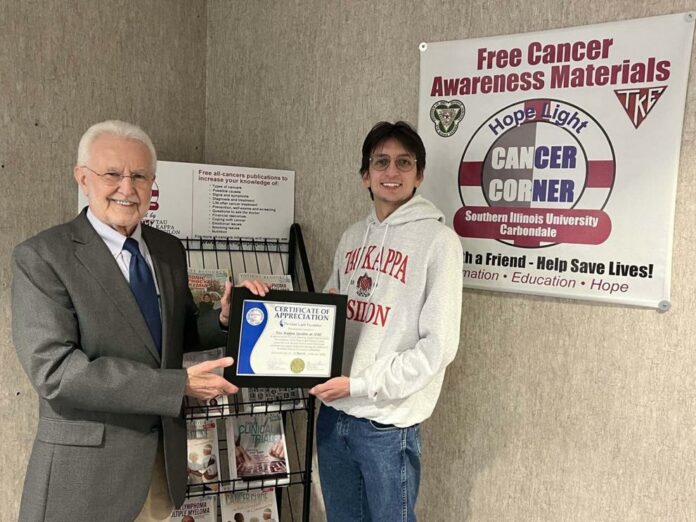 CARBONDALE — Members of Tau Kappa Epsilon Fraternity, Beta-Chi chapter, at SIU were recognized for their work to spread the word about cancer. Certificates were presented to Sam Faciano, TKE president, and Jason Riley, TKE philanthropy chair, by Rudy Bess, founding director of the Hope Light Foundation. 
Rudy Bess, Founding Director of The Hope Light Foundation, presented Tau Kappa Epsilon (TKE) with a $500 donation and a certificate of appreciation for their "enduring support and excellent maintenance of the Hope Light Cancer Corner materials over the past 12 years that helped communicate cancer awareness among the students of Southern Illinois University Carbondale."
The Cancer Corner is a display rack with cancer awareness materials that are free for visitors to take with them and learn about cancer prevention, signs, symptoms, treatment options, and clinical trials.
Thanks to TKE, the Cancer Corner will continue to be stocked with cancer brochures, pamphlets, booklets and other material to enable individuals to recognize signs and symptoms of cancer and detect cancer early when it is easier to treat and survive.