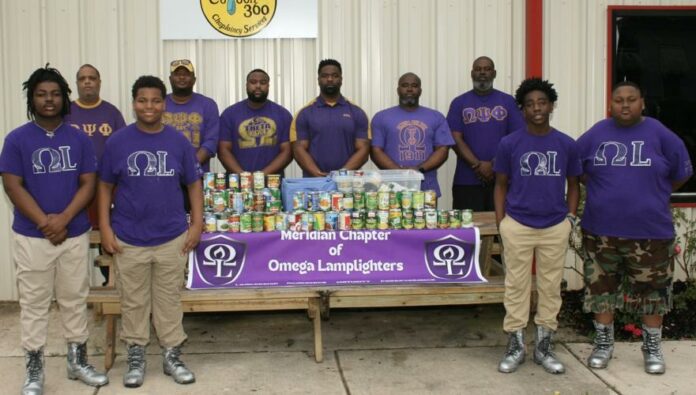 Members of the Meridian chapter of the Omega Lamplighters on Thursday delivered canned food they collected in their neighborhoods to Feed by Faith, a local nonprofit that serves meals three days a week to those in need.
The Lamplighters are a group of middle school and high school boys who are mentored locally by the Meridian chapter of Omega Psi Phi Fraternity Inc.
Through workshops, community service projects, tutoring programs and special events, Omega Psi Phi Fraternity members hope to steer the students toward becoming responsible adults and community leaders.
"We hope they will continue in the mentoring program, which is geared toward making them grow up to become responsible young men who will persevere through the things they are going to encounter in their lives and to go on to become leaders in the community," said Robert Williams, chairman of the Meridian chapter of Omega Psi Phi fraternity.
Founded in 2008, the goal of the national Omega Lamplighters is to establish productive relationships with young men and equip them with leadership and academic skills by providing them with support, mentorship and guidance as they grow into young men, according to the organization's website.
Locally, the Lamplighters is a two-year mentoring program, Williams said, with participants selected following an application process. Leadership, academics, maturity and perseverance are the cornerstones of the program, he said.
The seven youth currently serving as Lamplighters are Wendell Bell, Xavion Houston, Kimonté Watson and Jamar Gale. Javion Jordan, Cordarrin Wilson and Williams Barksdale were not in attendance for the visit to Feed by Faith.
Besides the recent food drive, the Lamplighters have participated in other community service activities, such as helping with an Easter egg hunt at James Chaney Park and reading to young children as part of Read Across America day.
The food collected for Feed by Faith will go a long way toward helping the agency serve meals to people who are in need in the community, said Carolyn Martin, administrative assistant for the organization.
Feed by Faith, started by Peggy Coleman in 2006, provides hot and nutritious noontime meals free to those in need each week on Monday, Wednesday and Friday. Located at 3401 Fifth Street, Feed by Faith serves a few hundred meals each week.