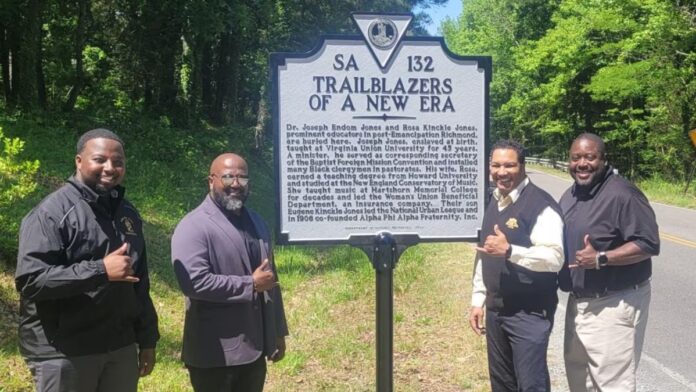 Members of Alpha Phi Alpha host dedication ceremony to reveal the 'Trailblazers of a New Era' marker
RICHMOND, Va. (WWBT) – A historic African American family is receiving recognition years after their passing.
On Saturday, May 20, community leaders and members of Alpha Phi Alpha Fraternity came together to dedicate a historical marker to Dr. Joseph Endom Jones, Rosa Kinckle Jones and their youngest son Eugene Kinckle Jones, co-founder of Alpha Phi Alpha Fraternity, Inc.
The dedication ceremony was organized to celebrate and recognize the accomplishments and contributions of the Jones family to the city of Richmond and the world we live in today.
Born into slavery to a blind mother in Lynchburg, Dr. Joseph Endom Jones was educated in his early years by a fellow enslaved person and later by a Confederate soldier. He became Department Head at the Richmond Institute, now known as Virginia Union University, and one of the first African American men to earn a college education and doctoral degree after slavery.
Jones was also a successful pastor at Bethesda Baptist Church in Petersburg, and a nationally recognized educator of newly freed slaves. During his time, historical references reveal that he installed more pastors than any other pastor in the U.S.
His wife, Rosa Kinckle Jones, was also an iconic figure in Richmond. She was one of the first African American women to receive a degree from Howard University, and she studied at the New England Conservatory of Music.
Jones then became a nationally recognized music teacher at Hartshorn Memorial College, which is now a part of Virginia Union University.
Their youngest son Eugene Kinckle Jones was also honored at the ceremony for his contributions to society. Eugene Jones, a Richmond native, was the longest-standing National Secretary for the National Urban League, an American service agency founded to eliminate racial segregation and discrimination in America.
He was also one of the seven founders of the oldest black Greek letter organization based in the United States for African American Men, Alpha Phi Alpha Fraternity, Inc., which was established on Dec. 4, 1906, on the campus of Cornell University in Ithaca, New York.
Alpha Phi Alpha Fraternity members gathered to commemorate the Jones family at the Evergreen Cemetery for their many contributions to society.
The ceremony featured a reveal of the historical marker titled "Trailblazers of a New Era," with remarks from the Virginia Association of Chapters of Alpha Phi Alpha Fraternity President Kevin Glover.
The marker can be viewed at the entrance to Historic Evergreen Cemetery.